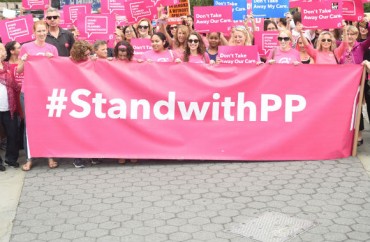 Why would Loyola University New Orleans host a fundraiser for Planned Parenthood, the nation's single largest abortion provider?
It's a Catholic institution, and Catholic teaching condemns abortion, but it took the efforts of the Students for Life campus chapter to remind the university what it stands for.
According to Students for Life of America, this weekend's performance of The Vagina Monologues, hosted by the campus Women's Resource Center, was announced at the school's previous Sunday night mass. Left unstated was that ticket proceeds and 85 percent of merchandise sales would go to Planned Parenthood.
After the Students for Life chapter found the Planned Parenthood connection on the event's Facebook page, Co-President Alex Lucas met with the campus minister and the club's faculty moderator.
MORE: Public college finally approves pro-life club but lawsuit continues
The club then drafted a letter to the administration arguing against giving the proceeds to Planned Parenthood, which the campus minister brought to his meeting with Loyola's vice president and Women's Resource Center director, according to Students for Life of America.
The whistleblowing forced the resource center to divert the proceeds to a different organization, STAR: Sexual Trauma Awareness Response.
There's no mention on the current event page, which is missing the "edit history" function of some Facebook pages, that Planned Parenthood was the original beneficiary. A Wednesday post on the discussion page says simply the play will "now" benefit STAR.
The edit history for the resource center's Jan. 30 Facebook post, however, shows that it didn't name the beneficiary of the show until three days later – after the change from Planned Parenthood to STAR had been imposed.
MORE: New York college forces pro-life students to fund abortion advocacy
The Students for Life chapter said in a Facebook post Saturday that it did not oppose the hosting of the play and did not try to stop it "in any way":
The show is an empowering work of feminist art meant to bring awareness to discrimination, sexual abuse, and other important issues affecting women. LSFL was not trying to impose its beliefs on anyone on or off campus. STAR, or Sexual Trauma Awareness and Response, is an organization whose purpose is more in line with that of the show, and we believe that by donating the proceeds to STAR, Loyola's Women's Resource Center will have a much greater positive impact on women in the New Orleans area. Loyola Students for Life was attempting to make the show more inclusive by redirecting the proceeds toward an organization the entire student body would feel comfortable supporting.
It was apparently responding to claims that it tried to cancel the play. SFLA President Kristan Hawkins said in the national organization's post that the Catholic university "should have also cancelled the performance and secured a more appropriate show for a Catholic campus."
Read SFLA's post and the campus chapter's post about its intentions.
MORE: Colorado State won't fund pro-life student event unless it's 'unbiased'
Like The College Fix on Facebook / Follow us on Twitter
IMAGE: a katz/Shutterstock