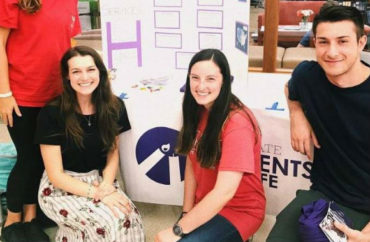 UPDATED
Previously no funding for 'political' groups (unless you support abortion)
The attorneys at the Alliance Defending Freedom notched yet another win in their fight for the First Amendment rights of college students.
In a settlement announced Wednesday, the public-interest litigation firm said it was voluntarily dismissing its lawsuit against Ball State University on behalf of the public university's Students for Life chapter.
To make the lawsuit go away, Ball State ended up paying the pro-life students and their lawyers 41 times more than the amount of funding the university had denied to Students for Life based on its viewpoint.
It's also revising policies that give officials broad leeway to engage in viewpoint discrimination against disfavored student groups and explicitly deny them funding based on their views.
Oddly, at the same time the alliance was suing Ball State, the taxpayer-funded university was working with the pro-life students on improving parking options for pregnant women on campus.
MORE: Pro-life students sue public university for requiring 'trigger warnings'
Funding committee meetings will finally be recorded, appeals process added
A committee composed of students and administrators had agreed to fund pro-abortion, pro-LGBTQ and atheist events with mandatory student fees, but denied the $300 sought by Students for Life based on its pro-life views.
The group had planned to use the funding for its Pregnant on Campus initiative, which helps pregnant and parenting students stay in school.
The denial ended up being far more costly for Ball State, which pledged to give Students for Life its requested $300 plus $12,000 in legal fees to the alliance lawyers, according to its settlement agreement dated Tuesday.
The school also vowed to eliminate policies by the end of the week that show discrimination towards any form of "religious, political, or ideological" expression, as well as implement safeguards "against viewpoint discrimination," the alliance said in a press release.
According to the alliance's original lawsuit, the "Student Activity Fee Guidelines" prohibited funding for "any organization which engages in activities, advocacy, or speech in order to advance a particular political interest, religion, religious faith, or ideology."
This policy was selectively applied, according to the alliance: The university funded "many organizations" that espouse "political, religious, and ideological views," but not Students for Life.
MORE: Ball State funds pro-abortion, pro-atheist events, shuns pro-life initiative
A new "Student Organization Fund Allocation Policy" attached to the settlement, dated Aug. 29, is intended to replace the policy targeted in the lawsuit.
The six-page policy requires funds to be allocated to student groups in a "viewpoint-neutral manner" and bars the denial of funds based on the "particular opinion" of a funding applicant. Only viewpoint-neutral criteria will be used to judge applications.
Members of the Student Fund Allocation Committee, including administrators, must "solemnly swear or affirm" they will allocate funding "in a viewpoint-neutral fashion as required by law," an apparent reference to the alliance's constitutional claims.
Student groups that are denied funding will now have access to evidence they can use to appeal decisions. Under a new policy mandate, committee meetings will be audio recorded and "written minutes" will be maintained.
An appeals section says the committee will give denied student groups a "written statement" explaining the denial "upon request." Denied groups can appeal rejections to the vice president for student affairs when they allege the decisions were "discriminatory" or based on their "speech or expressive activities." That official must render a decision within five business days.
According to the alliance, the provisions on audio recording, written explanation for denial and appeals process did not previously exist.
Still has multiple policies that encourage 'administrative abuse and arbitrary application'
"Public universities are supposed to provide a marketplace of ideas, but that market can't function properly if university officials promote some views over others," alliance attorney Caleb Dalton said in a press release:
Ball State has taken some important first steps in eliminating the most blatantly unconstitutional aspects of their policies and honoring its intent to "respect and learn from differences in people, ideas, and opinions." We sincerely hope this serves as a catalyst to review all policies to maximize the free exchange of ideas at BSU.
Ball State receives a "yellow light" speech-code rating from the Foundation for Individual Rights in Education, owing to several "ambiguous" policies that "too easily encourage[] administrative abuse and arbitrary application." Among the policies flagged by FIRE that could entangle pro-life campus activism, regardless of Ball State's revised funding policy: bias reporting, harassment and "expressive activities."
Dalton told The College Fix on Thursday that every university should consider the hit to its budget if it maintain policies like Ball State's and then gets sued: "The primary goal of our clients is to change the policies."
It's particularly dangerous for universities in the 7th U.S. Circuit Court of Appeals, as is Ball State, because this court has clear precedents on student funding and free expression, the attorney said. Dalton declined to compare this settlement with others the alliance has reached: "Every university is unique and has their own policy."
Kristan Hawkins, national president of Students for Life of America, said she was "encouraged" by the university's change of heart.
"Tolerance is a two-way street, and BSU Students for Life deserves equal access to funding and the continued opportunity to share their message of hope with pregnant and parenting students," she said in the alliance release.
The alliance's Center for Academic Freedom, which litigated the case, has racked up 385 victories for free speech and religious freedom on college campuses across the nation, according to its website. The center touts a 100 percent success rate in cases of "anti-free speech zones."
Ball State did not return queries from The Fix on Wednesday.
UPDATE: Alliance Defending Freedom attorney Caleb Dalton responded to Fix queries on Thursday after this article was published. His comments have been added.
MORE: Pro-life students convince Ball State to give pregnant women better parking
IMAGE: Students for Life at Ball State
Like The College Fix on Facebook / Follow us on Twitter