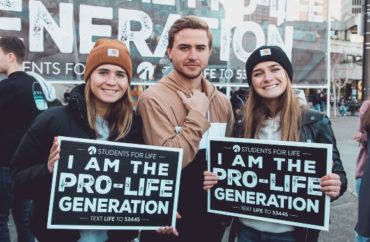 Students for Life said it will fight the 'infiltration of abortion violence'
Students for Life of America said it will try to stop a public university in Massachusetts from giving out chemical abortion drugs starting in the fall semester.
University of Massachusetts Amherst said its health center will give out the RU-486 drugs to any female student who wants to abort her baby. The student health plan currently covers abortions, but now students can end the life of their preborn baby on campus.
Deputy Director of Strategic Communications Mary Detloff did not respond to two emailed requests for comment sent in the past three weeks. The College Fix asked about any liability concerns from dispensing chemical abortion drugs. Women must wait on the toilet as they bleed out and deliver the aborted baby.
SFLA plans to fight back against UMass Amherst.
"[W]e will not let this infiltration of abortion violence go unanswered," Mariah McCarron, New England regional coordinator for SFLA, told The Fix via email.
"We have a very active student group on campus who will be hosting Kristan Hawkins' speaking tour, 'No Woman Stands Alone in The New Post-Roe America: We Don't Need Abortion!' in April of this year," McCarron said.
She said the group will also spend time this semester educating students at the public university about the reality of chemical abortion drugs and pro-life alternatives to abortion.
"Leading up to Kristan's visit, we will be bringing awareness of the sickening reality of chemical abortion via our spring tabletop tour which focuses on both chemical abortion and a Post-Roe America," McCarron said. SFLA will also educate students about the "Standing With You Initiative which promotes the wealth of nonviolent alternatives to abortion available to students facing unexpected pregnancies."
Political battles continue at state level
Students for Life Action, the pro-life organization's political arm, has been active in state capitals pushing prohibitions on chemical abortions.
It also worked with other conservative groups and Senator Steve Daines of Montana and Congressman Chip Roy of Texas to introduce the "Protecting Life on College Campus Act."
The bill, pending in committee, would prohibit universities from receiving federal funds if they provide abortions or abortion drugs.
The UMass Amherst pro-life club is trying to stop proposed legislation from Massachusetts representative Lindsay Sabadosa, who wants to see the state's 12 other public universities also hand out chemical abortion drugs.
"We think it compromises women's safety," SFLA student leader Kate Scott told the Boston Globe.
"And we also think it's out of the scope of what a public university should be doing. Especially with taxpayer funding," the UMass student said.
While the University of Massachusetts Amherst is the first in the state to give out chemical abortion drugs, 33 California higher education institutions will begin dispensing them next year.
California public universities will dispense chemical abortion drugs starting in spring semester 2023 under a law signed in 2019.
MORE: Students create 'Tribe for Death' to harass pro-lifers
IMAGE: Students for Life of America/Facebook
Like The College Fix on Facebook / Follow us on Twitter