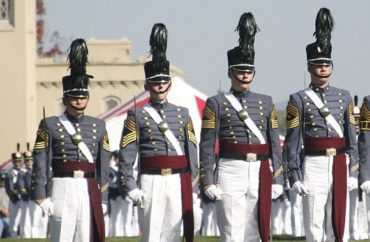 A proactive alumni group working to curb diversity, equity and inclusion at the Virginia Military Institute has been given credit for prompting the school's DEI chief to quit.
An article in The Washington Post largely cites the actions of proactive alumni, most notably members of "The Spirit of VMI" group, for the decision by Jamica Love to leave her post.
"Love, 49, who leaves her position at the end of June, was the highest-ranking Black woman at the nation's oldest state-supported military college. But she faced intense backlash from some alumni and cadets as soon as her hiring was announced in May 2021," the Post reported June 1.
While the Post's article suggested the dislike of DEI at VMI is due to disgruntled white male alumni, former students there have told The College Fix in recent years they seek to preserve honor and meritocracy at the institute in the face of equity programming. They also said they reject the argument the institute is steeped in racism and sexism.
As The College Fix previously reported, the controversy dates back to a 2021 consultants report that accused VMI of "institutional racism and sexism" and recommended the implementation of new DEI measures.
Last year alumni began actively writing to state lawmakers about their concerns, including Gov. Glenn Younking, as well as voice complaints on social media.
Earlier this year, alumni said they will withhold donations as VMI implements DEI programming. Most recently, concerned alumni in late April filed a lawsuit against the VMI Alumni Association.
"The complaint alleges that the Association refused members' requests for records that will permit them to communicate with 20,000+ fellow members by email — the same vehicle the Association uses, and permits others to use," Bacon's Rebellion reported.
"…The Association freely uses the Members list to distribute materials from the VMI Administration, unsolicited by Members, including personal attacks on Members and organizations they support, but refuses to similarly distribute opposing views."
In a statement to The Washington Post, VMI spokesman Bill Wyatt said the school's diversity office "isn't going away" and it will continue conducting and developing DEI programming.
And VMI's superintendent, retired Army Maj. General Cedric Wins, told the campus community the institute "remains committed" to DEI despite Love's departure, and an interim chief diversity officer has also been named, the Post reported.
MORE: VMI alumni work to disrupt alumni donations to force school to end DEI programs
Like The College Fix on Facebook / Follow us on Twitter