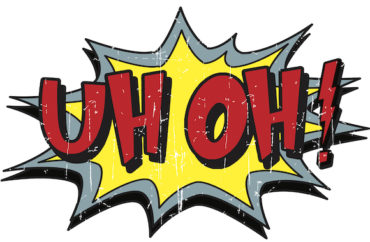 A professor at Northwestern University in Qatar has withdrawn from an almost three-quarters-of-a-million-dollar research project because of a blog post she made thirteen years ago.
In 2008, two years before she began teaching at NU-Q, Jocelyn Mitchell and her husband put up a blog post titled "Insights into Qatar" which, according to Doha News, included "xenophobic and racist remarks."
Some of the "insights" included "the ratio of ugly women to not so ugly women [is] 9:1" and the "The scent (reek) of sweat, and some 'nationalities' literally pushes you back a few feet."
Mitchell had deleted the blog in 2015, but after screenshots of it surfaced in 2019, she "apologized in a community town hall" and attended "anti-racism training," The Daily Northwestern reports. She claimed the post was a reposting of an email she had received prior to moving to Qatar. (Notice the post, below, says "our friend-of-a-friend.")
Earlier this month, another apology was made — this time by NU-Q to the community — after the blog post surfaced again. The university said the comments "continue to cause pain in our community — both within NU-Q and the wider Qatari community" and it promised to "renew […] efforts to heal the wounds."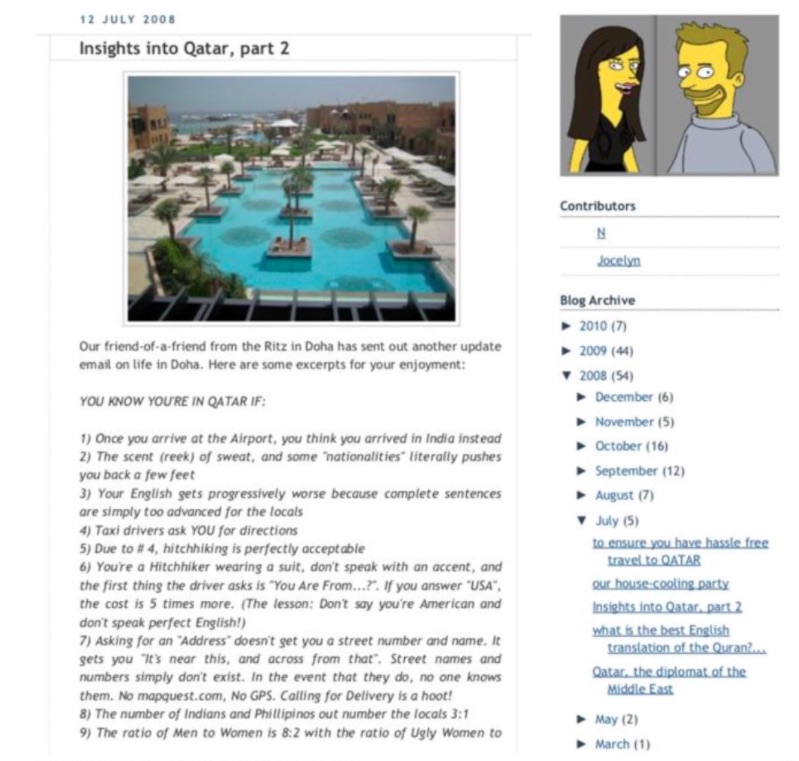 This was insufficient, however, for eight NU-Q faculty members. When the Qatar National Research Fund announced last week that Mitchell was part of its $700K grant, the faculty sent a letter to the community denouncing the move.
MORE: 50-year-old college 'blackface' results in outrage against governor
"We cannot be bystanders because silence allows racism to continue as business-as-usual," the letter read. "Many of our students have been pointing out institutional racism at NUQ, including recurring racial microaggressions, Eurocentric and orientalist curricula and research programs, and a lack of diverse faculty and staff."
The University has not "unequivocally" distanced itself from Mitchell's 2008 posts, the letter said, and needs to implement "clearer and more transparent processes for responding to racist conduct."

On Feb. 16, a day after the faculty letter went out, Mitchell wrote an email to the NU-Q community announcing her decision to withdraw from the project.

"I would never repost such an email today, precisely because of how much I have learned and grown over my past thirteen years living and working in Qatar," Mitchell wrote. "I am in full agreement with the colleagues who called these ideas 'abhorrent.'" …

Arab-American writer and activist Asma Alabed contacted student groups on the Evanston campus in early February to raise awareness of the incident. Upon advice from Multicultural Student Affairs, she also filed a complaint with NU's Bias Incident Response Team, Alabed said.

"Marginalized stories are hard enough to unravel as is, especially those in the Arab world that are constructed and narrated through neo-colonial perspectives and solely through modes of Western knowledge production," Alabed said in an email to The Daily. "Qatari women should be telling their own stories. They don't need a white woman in a position of power to validate and explain their existence."
Mitchell told Doha News this past week that she gets "physically and emotionally sick" when she reads the old blog post. She said "I will continue to apologise to and discuss the situation with anyone. I am committed to doing the work: acknowledging my past mistakes, checking myself, and doing better in the future."
Read the Daily Northwestern and Doha News articles.
MORE: College trustee resigns over 39-year-old 'Hogan's Heroes' photo
IMAGES: SFerdon / Shutterstock.com; نوف. / Twitter screencap
Like The College Fix on Facebook / Follow us on Twitter