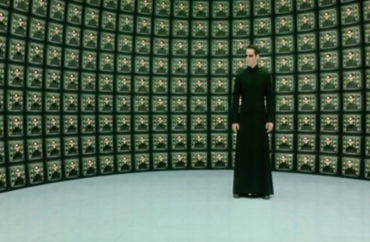 Here's a new one: A professor at London's Birkbeck University has pondered whether, at some point in the not-too-distant future, racist white people in America and Europe will escape into a Matrix-style simulacrum to avoid dealing with increasing ethnic and racial diversity.
Metro reports that Eric Kaufmann, author of the book "Whiteshift" which "explores the 'future of white majorities' in Europe and America," says white people will deal with increased non-white immigration by either "fighting" the change via "right-wing populism," "repressing" their reactions to the changes, intermarrying, or just … hightail it with what he calls "white avoidance."
In a thought experiment, he also explores some of the wilder ways in which white people could respond to the seismic demographic shifts due to take place during the 21st and 22nd century.

One of the 'futuristic scenarios' he presents is inspired by Elon Musk's claim that reality is simulated and asks if the development of virtual realities could allow white people to hide away from the new society currently forming in Europe, Britain and the US.

'As the West becomes more diverse and white avoidance and hunkering down become impossible, might group-conscious whites "exit" into a 1950s-style simulation of their countries?' he asks.

'Could nationalists set their augmented reality glasses to reveal an ethnically homogenous world?'
However, Kaufmann is skeptical such will actually happen as people "crave authenticity" — a basic need for "sunlight, fresh air and human interaction."
But Kehinde Andrews, a black studies professor at Birmingham University, disagrees, saying the idea "is not a million miles from what happens now":
'As diversity increases people find comfort in fantasy versions if history to feel secure and also create real bubbles of isolation.

'For example, Birmingham is almost majority minority but the majority of white people live in parts of the city that are overwhelmingly white. If we look at the areas where people live and socialise we will see that bubbles of whiteness exist. This is also true in terms of fiction and media consumption.

'I'll never forget how excited my white uni friends were watching the last episode of friends, a series set in New York (which is extremely diverse) but defined by being almost exclusively white. 'So if it got to point where it was impossible to maintain the fantasy of whiteness I wouldn't be surprised if some people preferred the simulation.
Andrews adds that whiteness is "not rational" and is "like a psychosis," so white people fleeing to a simulation would "make perfect sense."
MORE: Workshop shows how to move 'whiteness' from theory to reality
MORE: U. Oklahoma president called 'tool of whiteness' after blackface incident
IMAGE: YouTube
Like The College Fix on Facebook / Follow us on Twitter