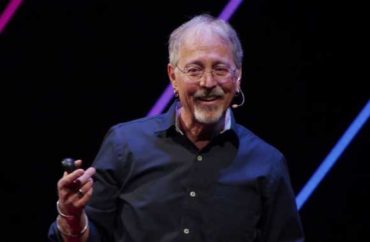 'We are all at some level nonbinary,' professor reportedly said
A Pennsylvania State University scholar has garnered media attention for suggesting to straight students in his sociology class that they should watch gay pornography to determine whether they are bisexual.
Professor Sam Richards made the comments to a lecture hall of more than 700 students during a Dec. 6 filmed lecture of SOC 119, Fox News reported.
"If you're straight, watch gay or lesbian porn and see how quickly you feel aroused," the professor said, according to Fox News. "And how you can't control that."
"We are all at some level nonbinary," Richards (pictured) reportedly continued. "We're all, very much, easily bisexual." Saying he was speaking directly to "straight folks" and "especially men" in the class, Richards reiterated his suggestion.
"Watch gay porn. See if you feel that feeling. If you feel that feeling, look in a mirror, and say huh, maybe I'm just feeling some things that I'm just afraid to release," he also said, as reported by Fox News. "And maybe you release that and maybe you'd be surprised that maybe you actually are fine being more bisexual."
The lecture was uploaded to the class YouTube channel but appears to have been taken down, The Daily Caller reported Friday. The class was titled "A Conversation on Trans Issues, [Trans-Exclusionary Radical Feminists], and The Binary," Fox News reported Thursday.
Other recently recorded class lectures on the channel include "Asking a Convicted Murderer Questions about Prison," "Toxic Masculinity," and "How Do You Keep a Successful Marriage."
Richards also got attention on social media in 2021 after he did a side-by-side comparison of a black student and a white student to illustrate "white privilege," The College Fix reported in July of that year.
Richards teaches in a purposefully provocative way, university said
Penn State defended the professor's pedagogy in a statement to Fox News.
"Professor Richards purposefully teaches in a manner designed to promote discussion across a spectrum of opinions," a Penn State media representative told the news outlet. "His class is not mandatory but is a popular elective that students choose to join."
Richards is "an award winning teacher and sociologist at Penn State University and the instructor of the largest race, gender and cultural relations course in the United States," according to his university bio. The course is livestreamed on Tuesday and Thursday afternoons.
"Ahead of each one of us is a life that we alone are being called to live and that all of us benefit when increasing numbers of us explore those lives and not follow a path that has been defined by others around us, most notably parents," Richards wrote in the course description page.
MORE: UW-Madison liberals 'physically sick' and 'hurt' by Matt Walsh event
IMAGE: Ted.com
Like The College Fix on Facebook / Follow us on Twitter