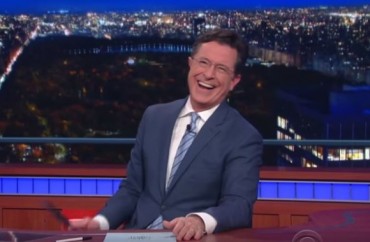 Sophia McClennen, a professor of international affairs and comparative literature at Pennsylvania State University, recently sounded off on why she believes Stephen Colbert's "The Late Show" ratings are sagging – Republicans won't watch it because they're too thickheaded to get his clever jokes!
"It is the socially conservative, less educated, Tea Party version of the GOP that is least likely to want to watch smart comedy like Colbert's," McClennen stated in her Salon piece, titled "Republicans just don't get Stephen Colbert: Why the
Fox News-watching, climate-change denying crowd can't understand complex satire."
"This is the portion of the population that thinks climate science is a liberal plot, Obama is not a citizen, and the separation of church and state is a myth," added the Duke and Harvard-educated scholar.
She also claimed Republican viewers stay clear of the show because it would force them to question their beliefs, because "when [Colbert] goes after these issues he tends to skewer the GOP, exposing the flaws to their logic, mocking their twisted so-called values, and revealing their penchant for re-writing history."
McClennen cites a Hollywood Reporter poll which found that Colbert's audience is only 17 percent Republican compared to Jimmy Fallon's and Jimmy Kimmel's audiences, which stand at 31 percent and 33 percent, respectively.
And why do Kimmel and Fallon attract more Republicans?
"The key difference is that Colbert still offers satirical comedy—not just entertaining comedy. Satire is completely different from the sort of jokes that make others seem silly or stupid. Instead it uses irony, sarcasm, and parody to encourage critical thinking," McClennen writes.
Newsflash to Professor McClennen: Republicans get his jokes, and most appreciate clever satire. What they don't appreciate is being continually mocked and ridiculed. There are two sides to every story, or in this case joke, and Colbert's condescension, even if it is delivered with wit, is more annoying than his jokes are funny.
Like The College Fix on Facebook / Follow us on Twitter
h/t: NewsBusters