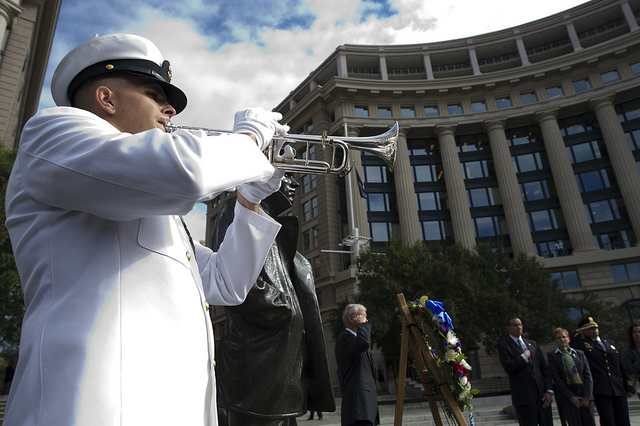 A Florida Atlantic University communications professor known for conspiracy theories has posted a series of pictures, audio clips, memos and news reports on his blog that he believes adds up to indicate the Navy Yard shooting in Washington D.C. was staged.
Professor James Tracy, who argued the Sandy Hook Elementary School massacre "did not happen as reported — or may not have happened at all" and called the Boston Marathon bombings a "mass casualty drill" has posted his finding under the headline "Artifacts From The DC Navy Yard Shooting" on his Memory Hole Blog.
"Nothing seems to be adding up," Tracy says in one of the videos on his blog post, adding terms like "crisis actors" to his analysis. He calls his "smoking gun evidence" an Associated Press article on the shootings date-stamped September 15, 2013–one day before Navy Yard shooting. He says he doesn't buy the idea it could have been "just a glitch."
The blog is not affiliated with Florida Atlantic University.
Much of his data was sent in by his blog's readers, and includes photos that "depict one apparent shooting victim being attended to by pedestrians, as police officers stand by and an individual in plainclothes zones off part of the scene with crime tape," Tracy states.
Other alleged evidence cited on the blog includes a 45-minute audio from the shooting that "at the very end it is determined that they will not be needing a large staging area for non-existent (my words) casualties."
He describes another series of pictures as sketchy as well: "In this photograph pedestrians attend to an apparent shooting victim while a police officer (or soldier) looks on close by. Another figure that appears to be in plainclothes is visible demarcating area with crime scene tape. … First responders at the scene exhibiting perplexity and/or boredom."
The blog also notes: "Witnesses have been documented stating that evacuation drills were known to have been taking place at the Navy Yard in the lead-up to the September 16 shooting event."
Most news outlets, however, have identified the gunman as 34-year-old former Navy reservist Aaron Alexis. Police say he shot and killed 12 people in a Washington Navy Yard on Monday.
CLICK HERE to Like The College Fix on Facebook / TWITTER: @CollegeFix
IMAGE: Secretary of Defense / FLICKR