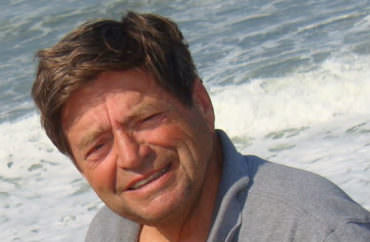 He told the joke the previous year, too – and faced no punishment
Trent Bertrand has taught undergraduate international economics at Johns Hopkins University for the past six years.
It appears to be coming to an end because he told a joke in class – a joke so offensive, according to his superiors, that he was escorted off campus as he tried to enter his own class.
The university's official explanation for dumping Bertrand, a former World Bank official who has taught at universities in America, Canada and Thailand, is that he was an adjunct professor and it has recently hired a full-time professor to teach his subject.
As to why Bertrand was treated like a physical threat to his students that required immediate removal, Johns Hopkins won't say.
Suspended and unsuspended in emails a minute apart
Bertrand publicly shared his experience last month, shortly after his teaching contract officially ended.
Campus security showed up at his classroom door on Dec. 6, barring Bertrand from entering, and escorted him off the premises, the professor wrote in a post for The Martin Center for Academic Renewal.
The next day he received a letter from the head of his department, suspending him from teaching – three class days before the semester ended.
According to The Johns Hopkins News-Letter, Bertrand was informed Nov. 17 that the Office of Institutional Equity would investigate student allegations that he had created a "hostile environment" in class.
His department chairman, Laurence Ball, told him two weeks later that three students out of 68 complained he told a single offensive joke in class, but also that some student evaluations of his course called Bertrand a "blatant racist."
MORE: Law prof fights school for punishing him for 'Brazilian wax' exam question
Bertrand reprinted the joke he told his class in a lesson about offshoring:
An American loses his job due to his work being off-shored. He is very depressed and calls a mental health hotline. He gets a call center in Pakistan where the call center employee asks, "What seems to be the problem?" The American responds that he has lost his job due to the work being sent overseas and states, "I am really depressed and actually suicidal." The call center employee says, "Great. Can you drive a truck?"
According to the News-Letter, Bertrand received two emails a minute apart Dec. 5 – the first suspending him immediately and the second reversing his suspension.
He went to class the next day unsure of his status, where his chairman let him "give a brief farewell remark to his students" before he was forced to leave campus.
Bertrand told the News-Letter that he shared the same joke in class the previous year and that a student told him it was an "impediment to her education." He responded by citing his 18 months spent in Afghanistan, where "people throw acid in the faces of little girls who were going to school," and told the student to "toughen up a bit."
MORE: Exam question on kangaroos triggers bias complaints
ICYMI: @JohnsHopkins has suspended professor Trent Bertrand for creating a "hostile" classroom environment https://t.co/HgarMkHIFc pic.twitter.com/jTmwnxSs5H

— JHU News-Letter (@JHUNewsLetter) December 14, 2016
'Orwellian' diversity office refused to let him bring a lawyer
Johns Hopkins has yet to explain why even a joke told in poor taste warranted suspension and immediate removal from campus, particularly since OIE had not started investigating the hostile-environment allegations when Bertrand was suspended, the professor wrote.
He alleged that the university used the joke as an excuse to dump him for criticizing the "Orwellian" OIE after Ball, the department chairman, said the office would investigate Bertrand.
Bertrand said the office "appeared to be the enforcement mechanism" for a diversity "roadmap" that the administration and trustees developed in response to Black Student Union demands for more "underrepresented minorities."
OIE's failure to "complete" its report for three months after it "finished" its investigation – after his contract expired – looks intentional, Bertrand said: Neither he nor the American Association of University Professors could appeal his suspension to the Academic Council before the report was complete.
MORE: Professor reported for question on biological men competing against women
After he was interviewed by OIE, Bertrand told the News-Letter the office refused his request to record the proceedings or bring a lawyer with him, while an OIE official said lawyers would inhibit the "open exchange of information" required for its investigations.
Since the suspension began many students have emailed Johns Hopkins in defense of the professor, attesting to his classes and teaching ability, Bertrand claimed, citing two in particular.
Student John Crawley wrote that he was "truly excited to go to class and learn" from Bertrand for the first time in his four years at the university:
I am very rarely challenged by a teacher to WANT to learn more, and WANT to research more into something… until this semester. […] How can we be brought up in a "marketplace of ideas" when there is only one "right" (or left) belief? How can we gain a competitive advantage when we're afraid of being wrong?
Bertrand has not responded to multiple College Fix requests for comment via email and Facebook.
Could have ditched him 'based upon a number of factors'
The university declined to confirm to The Fix that Bertrand was suspended, his contract not renewed, or even escorted off campus before he could enter his classroom Dec. 6.
It would not answer why security would be required to remove a professor before an investigation had begun, nor its grounds if any for believing Bertrand posed a physical threat to students.
It's also not clear whether any investigation into Bertrand's behavior is ongoing, and what the results of the OIE investigation were.
A spokesperson for Johns Hopkins gave The Fix a statement that appears to be an updated version of the statement it gave the school paper in December.
It says the university "is deeply committed to academic freedom and freedom of expression" and "does not investigate complaints or take any personnel action based on a faculty member's political views."
MORE: Law prof apologizes for 'insensitive' Ferguson-based exam question
Though it noted Bertrand had implicitly waived any confidentiality by speaking publicly about his case, the office would only confirm that the professor "previously received the findings of the OIE investigation and notice regarding his contract as an adjunct faculty member."
The university implied that Bertrand may have been too successful as an adjunct, convincing the economics department to hire full-time instructors to accommodate demand for its undergraduate courses – one of which will handle Bertrand's subject of international trade.
Echoing the phrasing of the "holistic" process that colleges often use to obscure race-based decisions in admissions, Johns Hopkins said an adjunct may lose a course "based upon a number of factors," from student feedback to "departmental needs."
Asked again why Bertrand had been escorted out by security, the university spokesperson said its full statement was its "consolidated answer" to all questions.
Even a critic of Bertrand's joke didn't buy that he was a threat to students.
Kevin Drum wrote in the leftist magazine Mother Jones that the joke reveals Bertrand to be an "asshole" because it was "carefully conceived … to cast Muslims as suicide bombers" and had "nothing to do with offshoring."
However, he concluded: "Maybe they should have just let him finish up instead of escorting him off campus."
MORE: Teacher suspended for teaching math using pimps and hos
Like The College Fix on Facebook / Follow us on Twitter
IMAGE: Trent Bertrand/Facebook