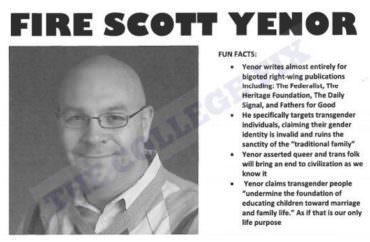 There's a chorus of demands to fire Boise State University Professor Scott Yenor in the wake of an article he wrote on the role of radical feminism in emerging pro-transgender trends that undermine parental rights.
A petition calling for the political science professor's termination accused him of promoting "an ideology of violence." Some students and others in the campus community also called for Yenor to be fired, including in school newspaper op-eds and in posters hung around campus.
And at a campus debate held Sept. 25, some at the forum suggested Yenor's work amounted to "hate speech" and should be banned, according to an audio recording of the event sent to The Fix.
At issue is an article he wrote for the Daily Signal titled "Transgender Activists Are Seeking to Undermine Parental Rights," in which he argues that "radical feminists aspire to revolutionize society" in part by eliminating gender differences and erasing sexual taboos.
After their recent victory with same-sex marriage, Yenor argues, radical feminists have set their sights on infringing upon parental rights to let children decide their gender with government intervention and support.
"Transgender rights activists are seeking to abridge parental rights by elevating the independent choices of young children," Yenor wrote. "Respecting the sexual and gender 'choices' of ever-younger children erodes parental rights and compromises the integrity of the family as an independent unit."
Yenor's article served as a complement to a detailed report he penned for the Heritage Foundation that tied the current transgender movement to the goals of radical feminism.
"There exists no better way of extending the sexual revolution that second-wave feminists imagined than by shaking confidence in the very idea of man and woman," according to the report. "Transgender theories are part of the feminist goal of a sexual revolution that eliminates the proprietary family and celebrates non-monogamous sexual experiences."
The concept Yenor presented was farfetched for many students and others at Boise State, who found out about it after a university official shared his Daily Signal article on one of its Facebook pages.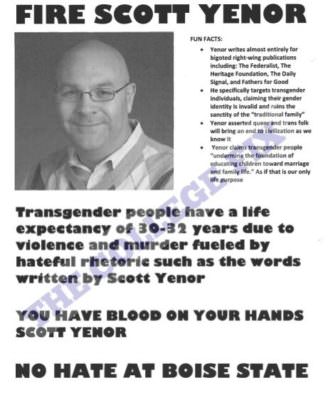 The petition to fire him has received more than 2,000 signatures. And according to various news reports, a poster was also hung around campus promoting his termination, a diversity official compared Yenor to a Neo-Nazi, and others attributed the events in Charlottesville to his article, published prior to the rioting.
"In our belief, this is hate speech, and it's alienating a lot of folks in this Boise State community," Joe Goode, president of Boise State's Young Democrats, told KTVB news. "We want to show that our university stands for more than hate, we are a community of equality and inclusivity."
Yet campus leaders have indicated that Yenor was well within his First Amendment rights.
"The First Amendment forbids public entities, including universities, from restricting or regulating expression because of its message or ideas," stated Sherry Squires, assistant director of content at Boise, in a Sept. 22 message to the campus community.
Corey Cooke, dean of the School of Public Service, addressed the controversy on Facebook by apologizing that posting Yenor's piece appeared to be an endorsement of it. But Cooke stopped short of agreeing Yenor should be condemned for it.
"In my view, it would be a mistake to encourage these colleagues to retreat from the public arena and I am loathe to do so in an environment in which the value of public education has been questioned and public reason has been derided," Cooke stated.
Faculty at the Office of Communications and Marketing at Boise also told The College Fix that despite opposition, Yenor will not be fired from his position at the university.
For his part, Yenor said he was "surprised at the reaction, disappointed and sad," noting there was a lot of "name-calling" and little in the way of "civil arguments," he told The College Fix in a telephone interview.
"Freedom of speech is really connected to the issue of viewpoint diversity," he said. "When 99 percent of the faculty is thinking a particular way, they reproduce themselves through new faculty members and you get less viewpoint diversity on campus."
Yenor stands behind his scholarly work.
"I'm very proud of the longer report I wrote for Heritage, it asked the question that hadn't been asked before: If you could give feminists everything they wanted, what would the world look like?"
MORE: Conservative professor fired for defending student's marriage views loses court battle
Like The College Fix on Facebook / Follow us on Twitter