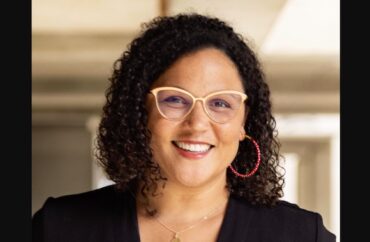 If there's one subset of the population that knows how to take hyperbole to the Nth level, it's progressives in the realm of academia.
Anything with which they disagree is "anti"-whatever (protesting pornographic displays by drag queens is "anti-gay" or "anti-trans"), and simple words — even silence — are "violence."
And how many times have we seen progressives clamor for "safe spaces" so that (insert racial/sexuality/ethnic group) can feel free to be their "authentic selves"?
Now, recall the Canadian anti-racism guru whose diatribe and subsequent actions allegedly led to the suicide of a longtime principal. The KOJO Institute's Kike Ojo-Thompson had berated and belittled Richard Bilkszto for his "whiteness" and "white supremacy" simply because he reasonably objected to one of her premises.
This is sadly hilarious as trainings like Ojo-Thompson's are typically dubbed "courageous" or "difficult," but in reality the only difficulties involved are faced by the white audience — they're expected to listen to the espoused drivel and keep their mouths shut.
"Trainers" like Ojo-Thompson never advertise that white people's safety and comfort are of no consequence, and that only they are expected to confront risks and difficulties associated with anti-racism trainings. Any deviance from the preferred orthodoxy is absolutely verboten.
Just as Bilkszto discovered.
For the University of Toronto's Nicole Bernhardt (pictured), it could not have been Ojo-Thompson's incivility and the corresponding gang up that served as the catalyst for Bilkszto's suicide. "The reasons for suicide are complex," Bernhardt writes in The Conversation. 
What's more, Bernhardt says (presumably with a straight face) that it is "crucial" people continue to support the anti-racism work of folks like Ojo-Thompson because they continually "risk their reputations and livelihoods."
MORE: More proof that anti-racism really IS a religion
Of course, we're never told that "suicide is complex" when parents protest porn in books available in their kids' school library. LGBTQ students are at greater risk of suicide! the progressives scream. Where's your empathy??
And just as Ojo-Thompson whined about the "right-wing media" concentrating on the Bilkszto story, so too has Bernhardt: "The [Ontario education] minister's response as well as those by right-wing news media have helped to fuel a narrative that anti-racism and equity work is to blame [for Bilkszto's death]."
 When wading into discussions about equity and racism, the practice of establishing guidelines has been a central strategy for mitigating the associated risks. This practice has often been described as building a "safe space." But long-time social justice educators […] argue "that authentic learning about social justice often requires the very qualities of risk, difficulty and controversy that are defined as incompatible with safety." This is especially the case when these conversations are taking place within the very institutions that are being asked to confront their own racist and inequitable practices.

Safety also gets conflated with comfort when people expect these conversations not to be upsetting or difficult, or expect not to be held accountable for their comments. This is an impossible standard to set for conversations that challenge institutional norms and social inequities.
According to her personal website, Bernhardt is a "human rights and equity specialist" and "equity ally" who has worked with "professional and community organizations seeking to improve the fairness and harmony within their workplaces."
If you've any doubts about Ojo-Thompson's vehemence, here she is in her own words:
What Kike Ojo-Thompson says here speaks for itself: she imagines herself building a new regime within education wherein adherence to her demands, deference to her ideas, will be rewarded with promotion but any resistance will be punished with termination. #ONTed #ONpoli #TDSB pic.twitter.com/HRv3ROmGaT

— Patrick Ross (@OutlawTory) August 8, 2023
"Next comes enforcement!" she says. "Don't be shocked! It's coming! And after that is consequences." If you're not "a good one" or "being seen as problematic" according to Ojo-Thompson, you will be "shown outward … the door."
In Bilkszto's case, it was a lot worse.
In response to the principal's objections to her comments during the training in question, Ojo-Thompson said "I just want to thank everybody for a proper, thorough session today. We got into the weeds and got the weed whacker out apparently. It was hot today. It was good. It was really good."
Here's a more complete offering of the anti-racism session in question:
New audio not embedded in our story of DEI trainer, Kike Ojo-Thompson inviting other educators in the session to comment on the "resistor" namely Richard Bilkszto. They mercilessly piled on him with no one coming to his defence. They couldn't even bring themselves to refer to him… pic.twitter.com/dbFw2EuFsr

— Rupa Subramanya (@rupasubramanya) August 4, 2023
I'm quite familiar with this type of pseudo-intellectual detritus because in the middle of my teaching career I had to endure it. In this case it Glenn Singleton's "Courageous Conversations" in which participants were lined up with signs hanging from their necks emblazoned with a number indicating their degree of "privilege."
Much like Ojo-Thompson's, er, setting of boundaries, Singleton restricted from his racial achievement gap conversations items such as family structure, economics and peer influences. And while he didn't stick around long enough to potentially get a pushback like Ojo-Thompson faced, he did take exception to a personal blog post I had written about his training … and complained to my superintendent.
Pretty courageous, eh?
MORE: University 'anti-racism' task force issues over 50 recommendations to combat bigotry
IMAGE: U. Toronto
Like The College Fix on Facebook / Follow us on Twitter