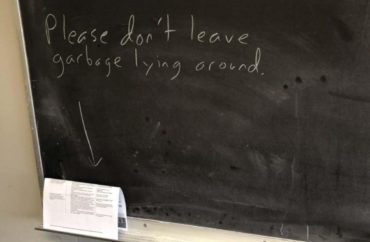 University of North Texas specifically told him it did not renew his contract because of his comments
A University of North Texas professor who criticized a document about microaggressions and subsequently lost his job can continue his lawsuit, a federal judge recently ruled.
Professor Nathaniel Hiers "has plausibly alleged First Amendment violations based on retaliation, viewpoint discrimination, unconstitutional conditions compelled speech, and as-applied overbreadth," Judge Sean Jordan ruled.
This means that the case could continue based on his claim that his First Amendment rights were infringed upon by UNT. The lawsuit began in November 2019 after the public university fired him for referring to a microaggression handout as trash. "Don't leave garbage lying around," Hiers anonymously wrote on a chalkboard over a handout.
He later took credit when the chair of the math department asked who wrote the message on the chalkboard criticizing the microaggression document. One page of it can be seen below.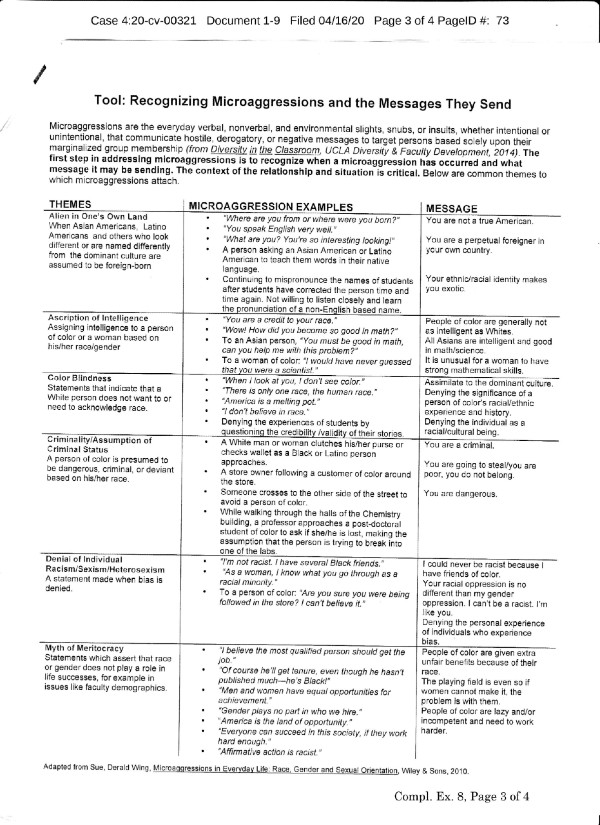 "Preserving the 'freedom to think as you will and to speak as you think' is both an inherent good, and an abiding goal of our democracy," Judge Jordan wrote.
"The university officials allegedly flouted that core principle of the First Amendment when they discontinued Hiers' employment because of his speech," the federal judge wrote. "Accepting the allegations as true, the Court concludes that Hiers plausibly alleged that the university officials violated his right to freedom of speech."
"The court's ruling allows the case to continue so that Dr. Hiers can finally have his free speech rights recognized," ADF attorney Michael Ross told The College Fix via email.
"The court is also allowing Dr. Hiers to seek damages for the retaliation against him," Ross said. "[S]ince his firing, Dr. Hiers has had trouble finding work at other universities and the actions of the university are significantly impeding his ability to become a tenured professor."
The judge ruled that some of Professor Hiers' other claims against individual administrators could not move forward due to sovereign immunity. However, his retaliation claims against some individuals at the university can move forward.
Two math professors can still be sued
"My decision not to continue your employment in the spring semester was based on your actions in the grad lounge on 11/26 [2019], and your subsequent response," Math department chair Professor Ralf Schmidt told Hiers.
The judge ruled that Hiers can continue his complaint against Schmidt and Professor William Cherry, who both were involved in the decision not to renew Hiers' contract.
"In my opinion, your actions and response are not compatible with the values of this department," Professor Schmidt wrote. "So with regret I see no other choice than to not renew your employment."
The College Fix contacted the University of North Texas media office on March 17 to ask for comment on the lawsuit and if an attorney reviewed all hiring and firing decisions. The Fix received an automated out-of-office response from Trista Moxley and Heather Noel, two spokespersons for the university.
The auto email said they would respond on March 21, but neither did.
MORE: 'F*** your God': Leftist UNT protesters scream at pro-lifers
IMAGE: Alliance Defending Freedom
Like The College Fix on Facebook / Follow us on Twitter