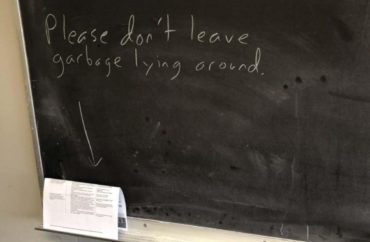 The university sent an explicit message: Agree with us or else
The University of North Texas fired a full-time math professor for the weighty crime of disagreeing with fliers on "microaggressions," according to a First Amendment lawsuit filed Thursday in federal court.
Represented by the Alliance Defending Freedom, Nathaniel Hiers alleges the taxpayer-funded institution rescinded his spring contract "without notice" for making a joke. UNT retaliated against him, engaged in content- and viewpoint-based discrimination, and attempted to compel speech from him.
When Hiers noticed "a stack of fliers" on microaggressions in the department faculty lounge in November, he read them and found the ideas wanting. Then he wrote "Don't leave garbage lying around" in jest on a chalkboard, with arrows pointing to the fliers (above), according to the suit.
The fliers come from the University of New Hampshire's ADVANCE program to support female faculty in STEM disciplines, which is funded by the National Science Foundation.
The first two pages focus on "gender microaggressions" and appear to have been compiled internally at UNH from various internet sources. The last two attribute their content to a 2010 work by the main popularizer of the microaggressions concept, Columbia psychologist Derald Wing Sue, who has publicly criticized colleges for using his research in "punitive" ways.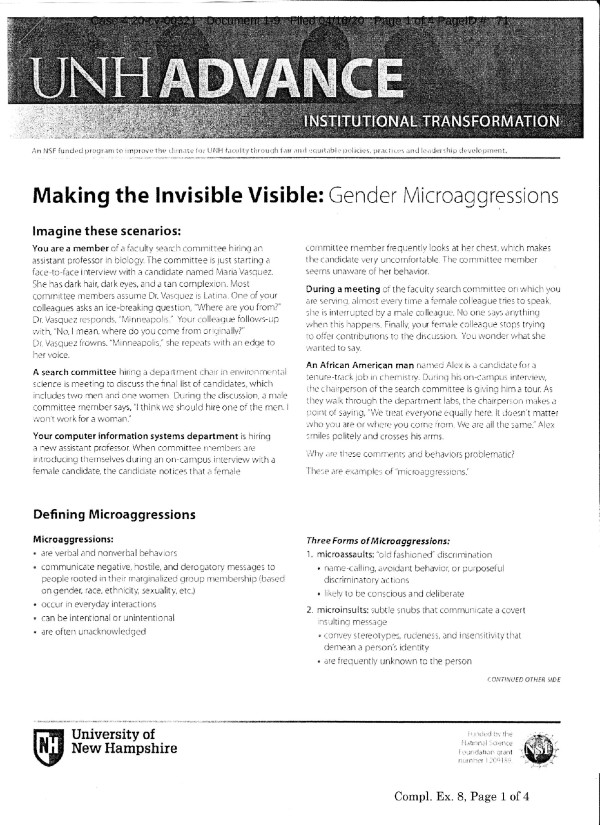 The fliers claimed that certain phrases are microaggressions that "propagate the 'myth of meritocracy' and promote 'color blindness.'" They include "America is a melting pot," "I believe the most qualified person should get the job," and "America is the land of opportunity."
Such phrases "target persons based solely upon their marginalized group membership," according to the fliers. Another point: It is "sexist/heterosexist" to be "forced to choose Male or Female when completing basic forms."
The response was swift. Math Department Chairman Ralf Schmidt, a named defendant, allegedly told Hiers that his response to the flyers was "stupid" and "cowardly." In the week following this, Schmidt fired Hiers.
Also named in both official and individual capacities: the Board of Regents, Chancellor Lesa Roe, President Neal Smatresk, Provost Jennifer Evans-Cowley, Dean of the College of Science Su Gao, and Associate Math Department Chair William Cherry. UNT did not respond to The College Fix's request for comment Thursday.
"Public universities can't fire professors just because they don't endorse every message someone communicates in the faculty lounge," Michael Ross, legal counsel for the alliance, said in a press release. "By firing Dr. Hiers, the university sent an explicit message: 'Agree with us or else.'"
MORE: Microaggressions professor: 'Not everything is a microaggression'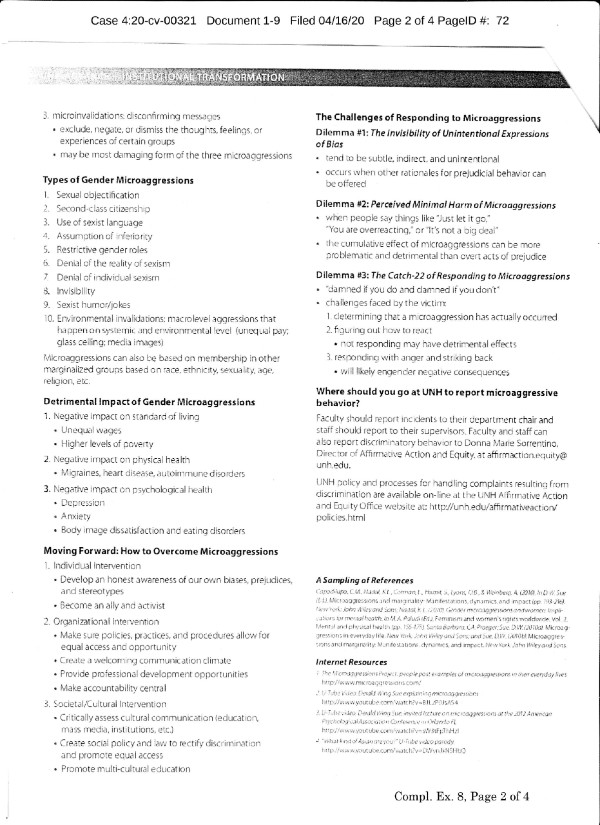 Microaggressions 'teach people to focus on the worst possible interpretation'
Hiers claims that all of the reasons he was given for his firing trace back to the microaggression fliers: He wouldn't subject himself to "additional diversity training" or retract his criticism of the fliers, and his "actions and response are not compatible with the values of this department."
The fired professor is challenging two sets of UNT policies: the unrestricted authority to punish faculty, and the Faculty Misconduct and Discipline Policy.
"The University has a policy or practice of allowing Defendants and other officials with oversight authority to fire, discipline, threaten, or otherwise punish faculty for any reason," and without specified procedures, the suit alleges. It further argues that the university has not restrained those with oversight authority from trampling on the constitutional rights of faculty.
Hiers rejects the concept of microaggressions because while "purporting" to reject bias and prejudice, the concept "actually hurts diversity and tolerance," the suit continues:
This mode of thinking teaches people to see the worst in other people, promotes a culture of victimhood, and suppresses alternative viewpoints instead of encouraging growth and dialogue.
The filing quotes from The Coddling of the American Mind, the book by New York University social psychologist Jonathan Haidt and Foundation for Individual Rights in Education President Greg Lukianoff.
Their argument bolsters Hiers' belief that microaggressions "teach people to focus on the worst possible interpretation of the statement, to disregard the speaker's intent, and to impute a discriminatory motive to others."
Hiers emphasizes that in no way, shape, or form did he deface or vandalize the fliers, only that he poked fun at them.
MORE: Medievalists ban 'microaggressions' against 'vulnerable' scholars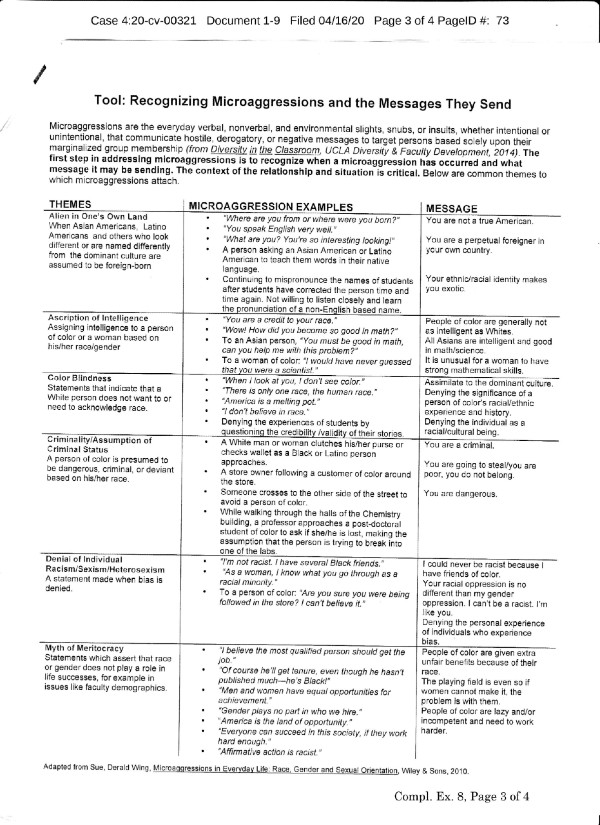 Calling them garbage 'can even be perceived as threatening'
While Hiers was in Schmidt's office, the department chair requested that Hiers attend even more diversity trainings than what UNT required, according to the suit. Hiers said he declined because he was already scheduled to attend mandatory diversity trainings "in a few days."
He was fired soon after without warning. "My decision not to continue your employment in the spring semester was based on your actions in the grad lounge on 11/26, and your subsequent response," Schmidt's email to Hiers allegedly read.
The chair continued that the fliers were not "political" and that the statements on them make "very much sense," while characterizing Hiers' "garbage" joke as both "upsetting" and "can even be perceived as threatening."
People may feel threatened, Schmidt elaborated, because they "don't know who wrote this; it might be a faculty member, grad student or anyone else." It's as if Hiers warned visitors to the faculty lounge "'Don't you dare bring up nonsense like microaggressions, or else,'" the chair allegedly said.
The suit interjects that Schmidt failed to consider that the fliers themselves were anonymously placed in the lounge: The chair "made no attempt to identify, let alone discipline" the person who left them there.
Schmidt made clear that he was trying to compel speech from Hiers as a condition of keeping his job, the filing said, quoting the chair:
Everyone makes mistakes, and I'm all for forgiveness if actions are followed by honest regret. But you very much defended your actions, and stated clearly that you are not interested in any kind of diversity training.
All of this points toward a violation of the misconduct policy, the former math professor argues.
"The Defendants never notified Dr. Hiers in writing of what he had done wrong or what policy he allegedly violated before taking action against him," the suit reads.
Public universities including UNT must "model the First Amendment values they're supposed to be teaching students," who will be future voters as well as lawmakers and judges, said Tyson Langhofer, senior counsel for the alliance.
"The person who left the fliers was able to express his or her views; Dr. Hiers should have had the same freedom," Langhofer said. "That's the message the university should be modeling."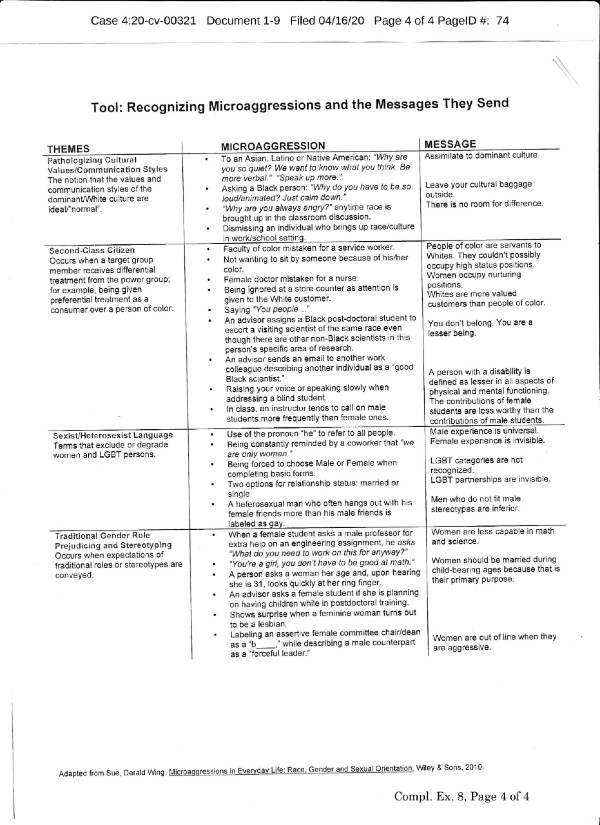 MORE: Professors advised to treat classroom microaggressions as assault
IMAGE: Alliance Defending Freedom
Like The College Fix on Facebook / Follow us on Twitter