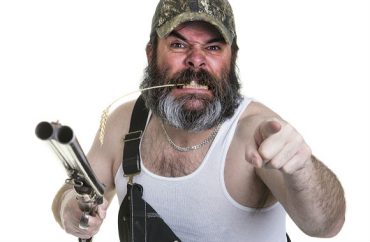 Even off-campus
Don't assume that all ghosts are white. Don't dress like Mario and Luigi, because it degrades Italian Americans. Anything "redneck" (right) is off-limits, as are sexy nurses.
Furman University students risk an investigation by the administration if they host Halloween parties that "encourage people to wear costumes or act in ways that reinforce stereotypes or are otherwise demeaning," under the private school's "Acts of Intolerance" policy.
The Foundation for Individual Rights in Education highlighted the policy as its "Speech Code of the Month" for October, pointing to student handbook's section on "theme parties" and its sweeping definitions:
An act of intolerance is defined as any conduct that serves no scholarly purpose appropriate to the educational experience and demonstrates bias against others because of, but not limited to, their actual or perceived race, color, national origin, sex, sexual orientation, gender identity, disability, age, religion, veteran status or any other characteristic or status protected by applicable local, state, or federal law.
The university promises to go after students even for their off-campus conduct, meaning that students can be investigated for Halloween costumes that offend others at private house parties or business establishments.
MORE: U. Oregon illegally punishes law professor for Halloween costume
Laura Beltz, senior program officer for policy reform at FIRE, says the policy sweeps in constitutionally protected speech even though it says acts of intolerance "must actually cause or reasonably be intended to cause intimidation, alienation, or other harm" – a subjective determination.
She notes that she wore "a tartan skirt and called it a Scottish costume" for her first Halloween at college:
Under Furman's policy, however, my costume could have been deemed an "act of intolerance" if someone claimed that it demonstrated bias against their national origin, and that they felt alienated as a result.
Though it's a private institution, Furman is still contractually bound by its promise to students in the handbook that they are "guaranteed freedom of inquiry and expression," without limit, Beltz writes.
Furman is perhaps best known for its alumni Brooks Buffington and Tyler Droll, who created the now-defunct social media app Yik Yak, which was itself widely blamed for enabling acts of intolerance at K-12 schools and colleges across the country.
Read FIRE's post about Furman's policy.
MORE: Feminists threaten to push legislation to identify Yik Yak 'perpetrators'
MORE: Evangelical campus ministry joins the PC police
IMAGE: Stephen Mcsweeny/Shutterstock
Like The College Fix on Facebook / Follow us on Twitter