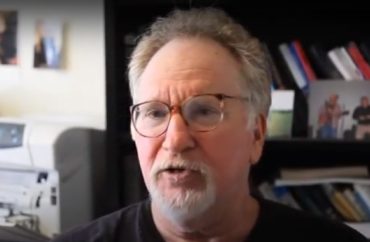 'We are the ones evaluating the consequences of your words and actions'
Mark Naison made the local news several years ago for his side hustle as an anti-gentrification rapper by the stage name "Notorious PhD." More recently he's been accusing college football of racism for too few black coaches.
The latest project by the Fordham University professor of African American studies and history, who is white, is less benign.
"I am starting a Fascism Watch," he wrote on Facebook Sunday:

Please indicate below if people you are in contact with- or people near where you live- are planning an insurrection to keep Donald Trump in office if he loses the election

We need to know how widespread these preparations are.
A few commenters gave Naison tips on places to gather names, including western North Carolina and New York City's Staten Island, the most conservative borough of the city. One identified Michael Caputo, the spokesperson for the Department of Health and Human Services who was recently diagnosed with cancer, saying he's her neighbor.
MORE: Student sues Fordham for punishing him over pro-freedom message
Earlier Sunday he hinted at his proposal in a message directed toward "those worried about George Soros and Antifa":
You need to worry more about your anti-racist neighbors, co-workers and family members. We are the ones watching you. We are the ones evaluating the consequences of your words and actions.
Two critical comments on that post, forwarded to The College Fix, are no longer on that post as of Monday afternoon. The person who made them told The Fix they didn't remove the posts, one of which asked "does Fordham know you threaten people" on Facebook.
Naison's Facebook page is obsessed with the Republican president and his presumed supporters, believing that America is on the verge of becoming a right-wing dystopia.
On Friday he wrote that he is "surrounded by racism and cowardice … everywhere I look." Earlier that day he said he was "watching everyone I know very carefully":
Sometimes what people don't say is more important than what they actually say. Who are the heroes? Who are the cowards? Who are the enablers?

Who are the racists and white supremacists coming out of the closet? Who are those who just want to run away because they can't stand people hating them?
The Fix has asked media relations for Fordham, a Jesuit institution, if Naison's menacing social media posts are appropriate for a professor and if they violate any university policy.
MORE: Fordham punishes Chinese student for Tiananmen Square post
IMAGE: New York Daily News/YouTube
Like The College Fix on Facebook / Follow us on Twitter