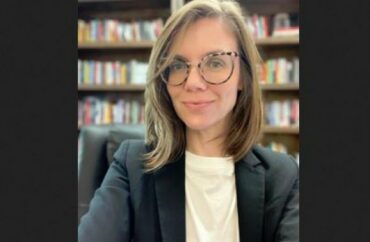 If you've been following social media the last few weeks, you may have seen the idea thrown about regarding a Mark Zuckerberg-Elon Musk cage match.
The proposed fight between the Meta (Facebook) and X (Twitter) bosses has been scrubbed for the nonce (Zuckerberg alleges Musk isn't serious about it); however, U.Missouri-Kansas City's Kristen Barber says the whole idea really was about how "'performances of virility' tend to coincide with beliefs that masculinity is either in crisis or under attack."
The professor of race, gender and ethnic studies says in The Conversation that Zuckerberg and Musk "join the ranks of other high-profile men in public and political positions who have shown off their physical strength to burnish their status."
"To me, the chest puffing between Musk and Zuckerberg is a desperate display of masculinity for two tech nerds with deep pockets," Barber (pictured) says. "They say money can't buy happiness. Perhaps money can't buy masculinity, either."
Barber also blasts right-leaning commentators such as Jordan Peterson and Ben Shapiro for claiming "men are being asked to castrate themselves in the name of equality" and ripping the movie "Barbie," respectively.
Belief in "masculinity crises" come about during "times of progressive social change," Barber says, and folks like Peterson and Shapiro end up blaming progressives who "critiqu[e] traditionally masculine mores and values."
MORE: Texas A&M scholar takes on 'toxic masculinity' of 'car culture'
Gender scholars point to the turn of the 20th century and the 1990s as other moments of social change that sparked similar anxieties.

In 1890, moves toward coeducation stoked debates around girls and boys being taught the same curriculum. Advocates suggested that sex shouldn't matter in the classroom and that girls' education should prepare them for jobs outside the home.

This didn't go over well with men who benefited from gender segregation. The Boy Scouts of America actually emerged in 1910 so that boys were assured a space where girls and women weren't allowed – and where boys would be "sufficiently" acquainted with masculinity.

Similarly, the emergence of identity politics in the 1990s, which highlighted rights-based ideologies, scrutinized, in particular, the privileges of white men.
At such times, Barber says men "have historically taken predictable actions to reclaim the idea that they are inherently different from women – and thus belong in different spaces."
According to her faculty page, Barber's research deals with "the mechanisms that perpetuate gender inequalities with a focus on norm violation […] what can we learn when people cross culturally established boundaries around gender, race, class, and sexuality?"
The sociologist also is author of the book "Styling Masculinity: Gender, Class and Inequality in the Men's Grooming Industry" and once served as editor of the journal Men and Masculinities.
MORE: Study: Men refusing to wear masks = 'toxic masculinity' and racism
IMAGE: U. Missouri-Kansas City
Like The College Fix on Facebook / Follow us on Twitter