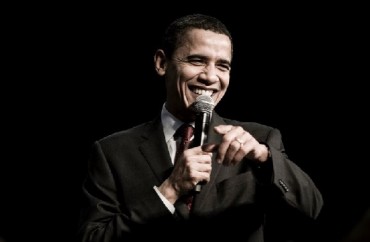 Editor's Note: This is the third in a series of articles reporting on 'Where Do We Go From Here: Creating An Intersectional Vision for Radical Social Change,' a diversity conference held June 13-16 at Fairfield University
FAIRFIELD, Conn. – President Barack Obama's presidency allowed racist individuals an opportunity to publicly incite racism which has led to an increase in racist incidents, a Fairfield University professor said at a recent diversity conference.
The remarks came from communication professor Audra Nuru while discussing racial discourse in politically charged contexts during a session at the Association of Jesuit Colleges and Universities' annual conference on diversity and equity.
"I'm not saying by any means that Barack Obama incited racism. I'm saying that him being in office, people who were already racist got a platform to address this publicly and reify it," Nuru said.
As examples of racism toward Obama, Nuru mentioned the birtherism movement and people who fixated on Obama's middle name of Hussein. She also brought up when conservative radio host Rush Limbaugh called Obama a "halfrican-American" in 2007.
The result of these incidents, Nuru said, "was that explicitly racist messages have steadily increased since 2010."
Nuru also looped the 2016 presidential election into her remarks, saying President Donald Trump hasn't taken responsibility for alleged hate crimes that have invoked his name or campaign slogans.
Politicians should use their privilege to promote inclusive discourse, Nuru suggested.
"With this privilege of a platform should come the responsibility of equitable and just discourses. Unfortunately, that's not the case," she said.
You can be both oppressed and privileged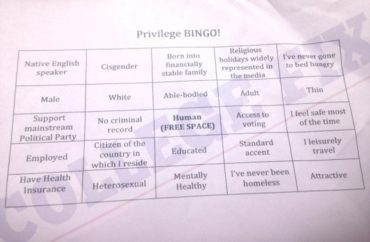 Another aspect of Nuru's talk touched on the concept of intersectionality. During her communications courses, Nuru said she'll hand out to her students a "Privilege Bingo!" sheet. Among the privileges included on the sheet are being attractive, feeling safe most of the time, supporting a mainstream political party and taking leisurely travel.
The prize for getting bingo is that "you're super privileged," according to Nuru.
She said she uses the bingo card to set up conversations about privilege and diversity, as well as to teach about intersectionality.
She said intersectionality means students can be privileged and oppressed at the same time.
"You can have immense privilege in some areas, yet still be oppressed," she said.
MORE: U. Pennsylvania alumnus doubles down on his Trump hatred, blasts critics
Like The College Fix on Facebook / Follow us on Twitter
IMAGE: Joe Crimmings/Flickr