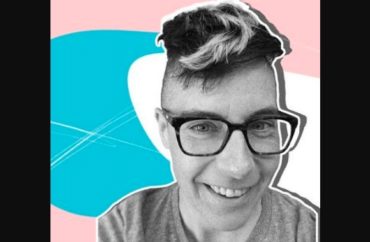 A history professor at the University of Washington claims Republican efforts to curtail "gender-affirming" care for minors are "intensifying" and "straight out of the Nazi playbook."
Laurie Marhoefer, who uses "he/they" pronouns and "occasionally write[s] commentary on contemporary American politics from the perspective of German history" according to her faculty page, also claims that even under the Hitler regime, trans people "were not used as a political wedge issue in the way they are today."
"Today, right-wing attacks against trans people in the U.S. are intensifying," Marhoefer writes in The Conversation. "Though the American Academy of Pediatrics and every major medical association approves gender-affirming health care for trans kids, Republican politicians have banned it in 19 states, with even more moving to prohibit it."
Marhoefer (pictured) says "gender-affirming medicine" is more than a century old and has its roots in Weimar Germany, which immediately predated the Hitler regime. In Berlin, transgender folk had their own magazines and a political organization.
However, even under that government people who dressed up as the opposite sex needed special "transvestite certificates" to be exempt from anti-cross-dressing laws. Hitler's ascension to power did away with this "relatively open environment."
MORE: University suspended College Republicans because someone said they practiced 'Nazism'
The author of a 1938 book on "the problem of transvestitism" wrote that before Hitler was in power, there was not much that could be done about transgender people, but that now, in Nazi Germany, they could be put in concentration camps or subjected to forced castration. That was good, he believed, because the "asocial mindset" of trans people and their supposedly frequent "criminal activity … justifies draconian measures by the state." …

At the Hamburg State Archive, I read about H. Bode, who often went out in public dressed as a woman and dated men. Under the Weimar Republic, she held a transvestite certificate. Nazi police went after her for "cross-dressing" and for having sex with men. They considered her male, so her relationships were homosexual and illegal. They sent her to the concentration camp Buchenwald, where she was murdered.
If Marhoefer insists upon invoking Godwin's Law (and "writing commentary on contemporary American politics from the perspective of German history") why not mention the sex change-based experiments of the Nazi "Angel of Death," Josef Mengele?
Last year, Marhoefer ripped the creators of the film "Bohemian Rhapsody" for not addressing the "rampant homophobia" Queen singer Freddie Mercury had faced, nor the government's "laughable initial response to the HIV pandemic [that] helped seal Mercury's fate."
"Gay men, the thinking went, were getting [AIDS] because of 'risky' behaviors like having lots of partners," Marhoefer wrote.
MORE: Professor compares Tea Party to Nazis
IMAGE: Laurie Marhoefer/Twitter
Like The College Fix on Facebook / Follow us on Twitter