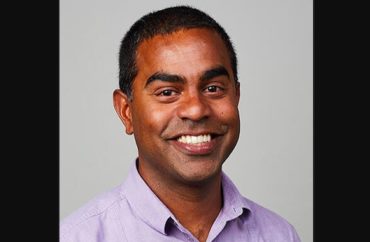 'Every single day […] he must feel the racist legacies of our nation'
A professor of education at the University of California Berkeley recently denounced an alleged year-old incident in which campus cops were "weaponized" against a face mask-less "Latine" student.
Thomas Philip (pictured) also called out the Berkeley School of Education for "fail[ing] to genuinely acknowledge, let alone substantively act, to redress the harm done to the student."
"The gratuitous involvement of police to control the bodies of people of color is an age-old tactic of white supremacy," Philip writes in The Daily Californian. "Even when it doesn't inflict physical harm, it carries the power of intimidation, involves enduring trauma and forces the target to experience the precarious threat that a single miscalculation could result in police brutality or even death."
Philip points to San Francisco's CAREN — Caution Against Racially and Exploitative Non-Emergencies — Act which, he says, was passed because police had been "needlessly called on people of color." He claims "every single day the student walks into our modern, glass-clad building at Berkeley Way West, he must feel the racist legacies of our nation."
The professor also alleges his department failed "to address the racial climate" which resulted in the mask incident, and adds that he was accused of "making too much" of the matter as "it wasn't a George Floyd incident."
A search via Google and of The Daily Californian archives provides no results about the incident to which Philip refers. The College Fix emailed the professor on February 7 asking for additional details; he did not respond.
MORE: Black academics refuse to wear face masks due to racial profiling
Philip also apparently is unaware of how law enforcement had been deployed against face mask-less individuals the world over during the height of COVID — including many Caucasians.
But, he continues:
My heart wrenches each time I think about these words coming from our department leader. It signals a profoundly warped measure used by leaders to respond to violence. It communicates a normalization that members of our campus are expected to live with everyday violence.

I swing between anger, frustration and sorrow to think that after a full year, the student has not experienced a modicum of justice. We are Berkeley and it is 2023, but this nation's violent and timeworn tools of white supremacy are still alive among us.
According to his faculty page, Philip researches "how teachers make sense of power and hierarchy in classrooms, schools, and society." His published articles include "Everyday science learning and equity: Mapping the contested terrain," "Supporting teachers of color as they negotiate classroom pedagogies of race: A case study of a teacher's struggle with 'friendly-fire' racism" and "Becoming racially literate about data and data literate about race: A case of data visualizations in the classroom as a site of racial-ideological micro-contestations."
MORE: Prof: Refusing to wear a face mask is a 'manifestation of ableism and racism'
IMAGE: UC Berkeley screencap
Like The College Fix on Facebook / Follow us on Twitter