UPDATED
Despite Northern Illinois University being "mask optional" this fall semester, one of its physics professors is mandating that anyone attending his classes must wear a face mask.
According to the Young America's Foundation's New Guard, Jahred Adelman noted on his syllabus (pictured) that refusal to wear a mask is a "manifestation of ableism and racism."
"Why do we wear masks? (The pandemic is not over)" the syllabus headline reads. Besides being ableist and racist, the syllabus notes "refusing to wear a mask indoors is […] an exercise of individual privilege that tells the most vulnerable that their health and the health of their loved ones does [sic] not matter."
"Look around," it continues. "Your neighbor may be an immunocompromised cancer survivor. The person across the aisle may live with an elderly family member. Your colleague may have a newborn at home."
Adelman (pictured) also included Photoshopped pictures of the classic scientists Isaac Newton and Robert Hooke saying things like "Bandanas are not acceptable" and "I don't want to see your nose this semester unless we're outdoors."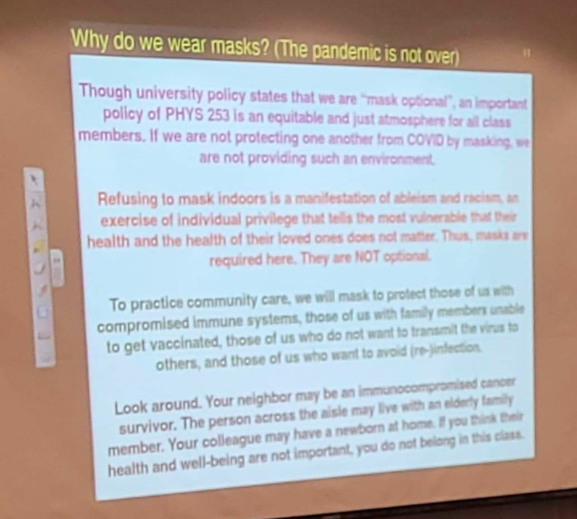 The New Guard report notes Adelman has posted about his anti-face mask escapades on Twitter; these include "filing reports" about unmasked people on his train commute and verbally confronting some of them.
MORE: Stanford's naked theatrical streakers still required to wear face masks
According to the student, Adelman is the only professor who teaches this required course at NIU, leaving those looking for a more normal learning experience out of luck.

The outlandish claim that not wearing a mask is "a manifestation of racism" appears to be a somewhat fringe belief. A search was only able to return one brief letter to the editor of the Los Angeles Times making the same claim.

When asked whether the university agrees with Adelman's characterization of maskless individuals, a spokesperson responded, "Dr. Adelman's comments reflect his personal opinion."

"I have no comment for you. My syllabus stands on its own," Adelman told YAF in an email.
Most recently in his now-protected Twitter account, Adelman wrote that "Yes, [he] has the authority to mandate masks in [his] crowded classroom." He also noted that it "took 8 years" but he finally was asked by the Young America's Foundation for a comment on his syllabus. He indicated in both tweets that he'd only discuss the issue with students enrolled in his class.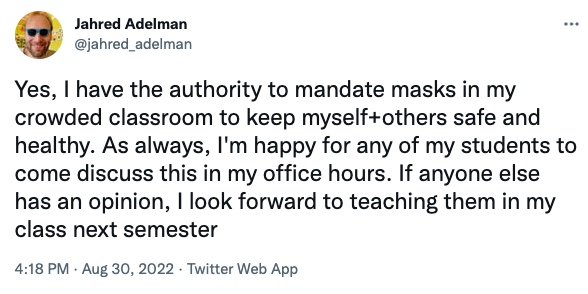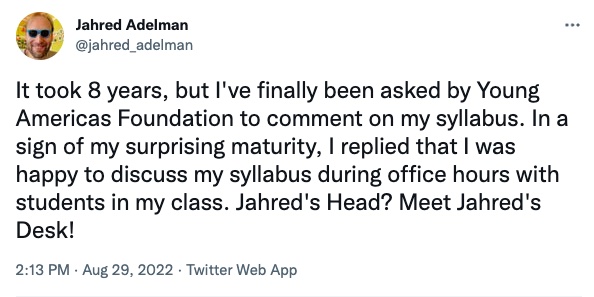 Adelman also referred to those questioning his mask edict as "snowflakes":

The College Fix has noted several instances in which academics have tied face masks to the subject of race. A Stanford professor wrote late last year that white people's resistance to face masks could not be "disconnected from whiteness." In May of 2020, sociologist Judy Lubin said Donald Trump's decision not to wear a face mask was based on "white men who have an affinity for traditional masculine ideals."
Interestingly, Lubin also said that wearing a mask is a privilege for white men; for black men, wearing masks could lead to a deadly encounter with law enforcement because they're "associated with criminality" (gangs).
UPDATE: After publication of this article, Adelman made his Twitter account private. The article has been amended to include screencaps of the noted tweets.
MORE: Black academics refuse to wear anti-coronavirus face masks due to racial profiling
IMAGES: Jahred Adelman/Twitter screencaps; YAF screencap
Like The College Fix on Facebook / Follow us on Twitter