Local residents have expressed support for the scholar
James Treadwell, a Staffordshire University criminologist, said he is under investigation for "transphobic" tweets.
"Ok to hell with it. I have been told by my employer @StaffsUni albeit only verbally that I am being investigated for Transphobia after formal and official complaints about my Twitter conduct. Read my tweets. Go figure. It's a good job cancel culture is just a myth though, right," Treadwell tweeted on January 12.
The controversy seems tied to Treadwell's online statements in support of housing prison inmates based on sex, particularly his use of the hashtag #KeepPrisonsSingleSex, according to the Daily Mail.
For his advocacy for sex-based prison policies, out of a concern for women's safety and common experience of pre-incarceration abuse, Treadwell was branded a "TERF" online, said The Daily Mail.
"Many [women] have been damaged by men time and again. I cannot see any case for now why we should do anything but #KeepPrisonsSingleSex," the professor of criminology had tweeted Jan. 10.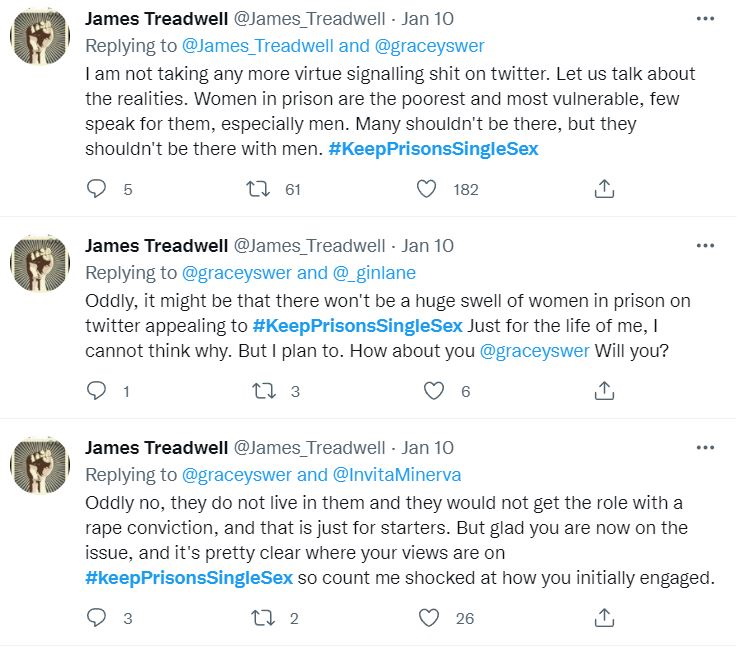 "TERF," an acronym for "trans-exclusionary radical feminists," has become a widely used insult for any person who questions the view that self-identified gender makes you a woman or a man. Transgender advocates claim that denying or disputing this view is bigoted and discriminatory.
Responding on Twitter, Treadwell stated that neither the names of his accusers nor the details of the allegations against him have been disclosed.
"Trans people like all people deserve dignity and respect," he said. "Academics giving their personal views do too."
Meanwhile, many local residents have expressed their support, The Sentinel reports.
"Absolutely insane that a professor in criminology cannot put forward a well-reasoned view on prison populations without ignorant voices misinterpreting him," said Tracy Simms-Patterson, a resident of the city of Stoke-on-Trent, home of the university.
Local resident Saphron Saliah said James is "one of the least hateful people on this planet," the Sentinel reported. "He values academic freedom and practical discussion. The witch hunt against him is disgusting."
Anne Ellis agreed: "It's just getting really ridiculous now. Censorship is becoming so normal that it's hard to have a conversation without putting your foot in it or offending someone."
"Before long we won't be able to speak at all!"
MORE: West Virginia University librarian: Saying lesbians are going extinct is 'the latest form of transphobia'
Like The College Fix on Facebook / Follow us on Twitter