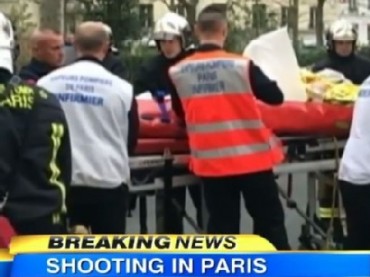 So this *also* happened today:
A Shimer College assistant professor tweeted: "It's no more surprising that someone would attack a newspaper devoted to hate speech than that someone would beat up Westboro protestors," the Daily Caller reports.
This was in reference to the fact that masked bandits shouting "Allahu Akbar" stormed into a French satirical news magazine Wednesday and killed 12 people. In assistant professor of humanities Adam Kotsko's mind, somehow he sees that headline and immediately thinks: Westboro protestors.
Really – that's the take away from this massacre? 
And if mocking religion is hate speech, I wonder how he feels about Hollywood's relentless mocking of Christianity. Is that hate speech too, professor?
One could walk away with a few assumptions about what the professor meant by his message. After it was spotted and touted by others, the scholar deleted the tweet and apologized profusely, the Daily Caller reports.
But not before offending people again with a second tweet admonishing: "I don't 'support' attacking a hate-paper or beating up Westboro adherents, but Jesus Christ, people!"
Nice, so he uses the Lord's name in vain at the same time as he calls mocking Mohammad "hate speech."
By the way, Kotsko earned his PhD at Chicago Theological Seminary on the topic of "theology, ethics, and culture," according to his bio.
Meanwhile, he has summarized on Twitter how he feels about being called out on his tweet:
Shimer is a small and private liberal arts school in Chicago. Kotsko tweeted that his views do not represent or speak for the college.
Jennifer Kabbany is editor of The College Fix (@JenniferKabbany)
Like The College Fix on Facebook / Follow us on Twitter
IMAGE: Main, YouTube screenshot; Inside, Shimer website screenshot