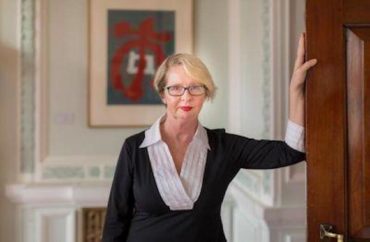 A professor of history is scheduled to give a presentation on "society's last taboo" — bestiality — at a Sydney, Australia festival next month.
University of London-Birkbeck's Joanna Bourke's presentation will be based on her 2020 book "Loving Animals: On Bestiality, Zoophilia and Post-Human Love," the Daily Mail reports.
Bourke "examines how the meanings of the words 'bestiality' or 'zoophilia' have changed" over the years and asks: "Are people who are sexually attracted to non-human animals psychiatrically ill, or are they normal people who happen to have a minority sexual orientation," according to the book's synopsis.
Appropriately enough, Bourke's talk will occur at the "Festival of Dangerous Ideas" on September 17. Festival organizers thus far aren't bowing to pressure to cancel her appearance and curator Simon Longstaff said the outrage over Bourke's attendance is "unjustified."
"To suggest that this was in some sense promoting sex with animals is like saying a historian who covers the history of cannibalism is promoting cannibalism," Longstaff said.
Longstaff, who's also executive director of The Ethics Centre, said Bourke's book "did not promote bestiality and actually supported the fact it was dangerous, perverted and wrong […] it takes a particular kind of mind to think that loving animals must involve sex with animals."
MORE: LSU agriculture professor arrested for sexual abuse of an animal
Longstaff also was "outraged" that a New South Wales arts minister allegedly did not attempt to discuss the matter with him before demanding the festival be called off on account of Bourke.
Longstaff called the NSW arts minister the 'minister for censorship'.

Radio host Ben Fordham said he had forwarded the link to the event to the office of the NSW Minister of the Arts.

'Can I just make this point, animals don't have a choice in the matter,' he said.

'So in a day and age when we focus on the word "consent", I don't know what the point is of talking about this subject, when at the beginning and the end of the argument, you are talking about an issue of consent, and animals being abused.'

[Arts Minister Ben] Franklin's office sent a statement to the radio station demanding the festival drop the speaker.

'Minister Franklin supports independent artistic expression, however creative works need to be in line with community expectations and clearly "The Last Taboo" does not come close to meeting those expectations,' the statement read.
Emma Hurst of New South Wales' Animal Justice Party said "bestiality is the sexual abuse of animals" and that "it is highly concerning that the [festival] blurb mentions the 'love' of animals. Animal abuse is not love."
She added "while conversations on these issues are important" they shouldn't be used as "a form of entertainment."
According to her faculty page, Bourke also published an article in 2019 titled "Bestiality, Zoophilia, and Human-Animal Sexual Interactions," which "explores the changing ideas about the 'wrongness' of such acts."
MORE: Fordham welcomes bestiality advocate to campus, rejects Ann Coulter
IMAGE: Birbeck, University of London screencap
Like The College Fix on Facebook / Follow us on Twitter