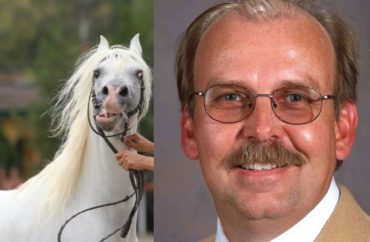 Also allegedly had child pornography on his work computer
Louisiana State University has placed an agricultural professor on administrative leave after police arrested him on allegations of sexual abuse of an animal and child pornography possession.
"According to arrest records, LSUPD was contacted by the LSU Ag Center stating that its IT department found files on an LSU computer issued to Gerald Myers that they believed might contain child pornography," WAFB reported.
It reviewed the arrest records but did not link to them in its article.
"Detectives say they then found 100 videos they 'reasonably believed' to depict child pornography on Gerald's encrypted hard drive," the Reveille reported.
"Police say the videos depicted rape on a range of children, from infants to pre-pubescent, and bestiality involving horses, dogs and other animals," the campus newspaper said.
Myers (pictured) does not teach animal sciences, but instead cotton production. He has worked at LSU since 1994.
"The faculty member has been placed on administrative leave and is not to return to campus until there is a final determination of the case," spokesperson Ernie Ballard told the campus newspaper. "Given the serious nature of the accusations, the AgCenter will be working with faculty and staff to ensure any necessary support opportunities are available."
Myers, if found guilty of the accusations, could face hard labor and decades in prison. The state criminal code states that anyone who "commits the offense of sexual abuse of an animal shall be fined not more than two thousand dollars, imprisoned, with or without hard labor, for not more than five years, or both."
"Whoever commits a second or subsequent offense of sexual abuse of an animal, shall be fined not less than five thousand dollars nor more than twenty-five thousand dollars, or imprisoned, with or without hard labor, for not more than ten years, or both," the state code states.
"Whoever intentionally possesses pornography involving juveniles shall be fined not more than ten thousand dollars and shall be imprisoned at hard labor for not less than two years or more than ten years, without benefit of parole, probation, or suspension of sentence," the state code states.
Myers is the latest in a series of professors who have been arrested and accused of degenerate behavior.
He joins the Purdue child psych professor who abused his wife and locked up a boy in a cage, the "deviant behavior" expert who set forests on fire and the criminal justice chair arrested for felony shoplifting.
MORE: Former professor arrested for vandalizing Lincoln statue
IMAGE: Louisiana State University; Accept Photo/Shutterstock.com
Like The College Fix on Facebook / Follow us on Twitter