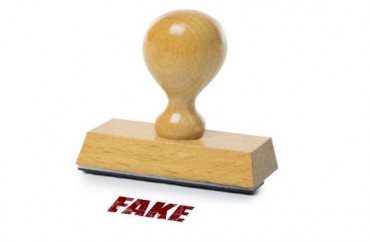 UPDATED
A tweet from a California college professor regarding a boycott of Olive Garden over its support for President Trump went viral over the weekend, currently racking up over 51,000 retweets and 60,000 likes.
There's just a bit of a problem: The tweet was based on bogus information.
Palo Verde College's Dennese Lilley-Edgerton wrote on Sunday "Olive Garden is funding Trump's re-election in 2020. It would be terrible if you shared this and Olive Garden lost business."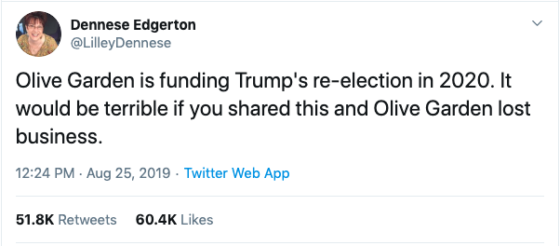 Scores of responses followed, with most of the initial reaction supporting a boycott of the restaurant chain.
Lilley-Edgerton, who teaches English, followed up a bit later:
#BoycottOliveGarden #BoycottOliveGarden #BoycottOliveGarden #BoycottOliveGarden

— Dennese Edgerton (@LilleyDennese) August 25, 2019
About six hours after her initial tweet, Olive Garden's official Twitter account responded:
We don't know where this information came from, but it is incorrect. Our company does not donate to presidential candidates.

— Olive Garden (@olivegarden) August 26, 2019
We can assure you that our company does not donate to federal candidates.

— Olive Garden (@olivegarden) August 26, 2019
Darden does not support federal candidates.

— Olive Garden (@olivegarden) August 26, 2019
Twitchy believes the original anti-Olive Garden tweet came from August 8 via a "California college student" (according to the Washington Post). It currently has over half a million retweets and was quickly picked up by pro-Bernie Sanders account:
Some of the companies supporting Trump's re-election:
– Bang
– @INNnOutBurger
– @ChickfilA
– @tacobell
– @McDonalds
– @Wendys
– @kfc
– @pizzahut
– @olivegarden
– @WaffleHouse
– @IHOP
– @CarlsJr

— People for Bernie (@People4Bernie) August 9, 2019
The same day as the People for Bernie tweet, the Post put up an article debunking the tweets' claims. The student had offered up six links which allegedly supported his "facts"; however, "several of those links aren't articulations of political spending at all; instead, they're assessments of the politics of the company broadly."
The student also used as "proof" a chart from the Center for Responsive Politics, but that information was from the 2016 election cycle, was for all federal candidates (not just Donald Trump), and pertained to political donations by individuals, not companies.
For the 2020 election cycle, guess which candidate has thus far received the most funding from the food and beverage industry? Democrat Kamala Harris.
The College Fix emailed Lilley-Edgerton asking about the source for her tweet. No response was received in time for publication. However, it appears she is moving the goal posts a bit:
Apparently. a company that donates to conservative PACs is pissed off about a boycott and sent its MAGAs after me on twitter. You know, because I used their god's name in vain. I will be busy blocking.

— Dennese Edgerton (@LilleyDennese) August 26, 2019
The professor's Twitter timeline and Facebook page are chock full of anti-Trump and anti-GOP material, including a response to an account's Twitter poll in which she said the president suffered from "all of these and more": mental illness, ignorance, syphilis, and dementia.
Lilley-Edgerton also has dabbled in the conspiracy realm:
The bones of CHILDREN have been found on Epstein's Island.
MY QUESTION?? Has anyone seen any news stories about this?

— Dennese Edgerton (@LilleyDennese) August 26, 2019
UPDATE: In an email to The Fix, Professor Lilley-Edgerton claims her Twitter account "has been accessed by another person" and says she will be working with Twitter support to resolve the issue.
"I do not post things that I cannot support," she said. "I did not post about Olive Garden. I was hacked. And I am being threatened by people who have seen this post."
It appears the original tweet (a screencap of which is above) has been deleted.
MORE: Prof triggered by conservative students' 'Fake News' event
MORE: UMich pays Democratic politician six figures to 'tackle fake news'
IMAGE: Shutterstock.com
Like The College Fix on Facebook / Follow us on Twitter