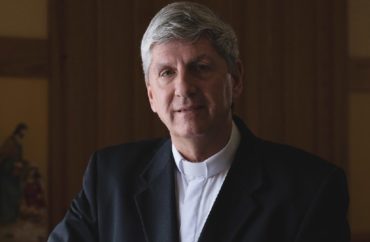 Attorney says Concordia University violated professor's 'rights of academic freedom'
Professor Gregory Schulz remains on leave at Concordia University four months after he criticized it for embracing "woke dysphoria."
The Lutheran college in Wisconsin placed Schulz (pictured) on leave in February after he wrote an article that criticized the presidential search process and the direction of the university.
The Lutheran minister has spent the past four months speaking out and not letting the leave stop him. However, Concordia officials have left the professor on leave without any clear next steps, according to his attorney.
"There has been no official action," Dan Lennington with the Wisconsin Institute for Law and Liberty told The College Fix on June 16. "He remains suspended without due process and in violation of his rights of academic freedom."
Concordia spokesperson Lisa Liljegren has not responded to two emails in the past two weeks that asked for information about the next steps the university planned to take with Schulz.
Schulz has continued to write essays and use social media to share his views. He went on a Lutheran YouTube channel to discuss his issues with the academic ideas of diversity, equity and inclusion.
Schulz celebrated a recent meeting of the Lutheran Church-Missouri Synod's South Wisconsin representatives that happened to take place at Concordia.
The convention that occurred the weekend of June 12, included resolutions that "denounc[ed] the evils of Social Justice and Woke ideology and reaffirming our fidelity to Christ and His inerrant and unsurpassably authoritative Word," the professor wrote on his Facebook.
His letter on Facebook, directed to LCMS President Matthew Harrison, stated that the opposition to wokeism was a good sign.
"From where I sat, I believe that these resolutions for our District as well as those being commended to our 2023 convention each passed with 85-90+ percent of the total vote," he wrote in his letter, posted on Facebook. "This makes these District resolutions moral mandates by any standard of measurement. It also appears that we have now elected a majority of genuinely Lutheran-minded members to the Board."
Harrison wrote a letter to Concordia in May that mentioned Schulz and criticized the direction the university had gone in terms of embracing a more liberal ideology.
An inquiry by members of the LCMS into Concordia's approach found "the introduction of secular diversity, equity, and inclusion language and initiatives into the mission of the university."
"This philosophy is laden with ideas antagonistic to the sacred Scriptures, including great lies about human sexuality and race," Harrison wrote.
He recommended that Concordia should "use this unique opportunity to craft diversity resources based upon the inerrant Scriptures, without the additional baggage of secular inclusivity initiatives."
Schulz wrote an essay in The Federalist on May 16 that questioned why the university and his faculty peers had not said more about his suspension. "Stubborn as sin, closemouthed as a grave, our administration and regents have not responded," to the letters from various academic freedom groups, he wrote.
"The faculty as a whole has also been deathly silent about this widely reported transgression against academic freedom," he wrote. He also noted the lack of a statement on academic freedom from the Lutheran Church-Missouri Synod which is "responsible for safeguarding the rights of church workers and pastors such as me."
A Change.org petition that calls for his reinstatement had 6,404 signers as of June 27.
MORE: Embattled scholar quits rather than face free speech restrictions
IMAGE: Wisconsin Institute for Law and Liberty
Like The College Fix on Facebook / Follow us on Twitter