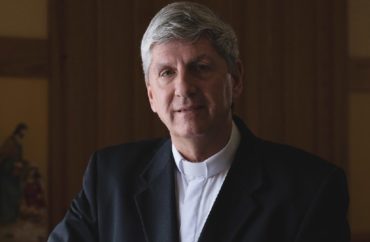 UPDATED
His attorneys say he has still not received due process
Concordia College in Wisconsin has suspended a professor after he criticized "woke dysphoria" at the school.
"It is our understanding that the University suspended Dr. [Gregory] Schulz for his public criticism of the search for a new president and the overall direction of the university," Dan Lennington, the professor's attorney, told The College Fix recently.
"The University has asked that Dr. Schulz 'recant' his views and apologize for offending University officials, which he is unwilling to do," the Wisconsin Institute for Law and Liberty attorney said. WILL is assisting Schulz in his battle.
Lennington told The Fix that his client (pictured) remains suspended and "has not received any due process" in a March 4 email. "Every day that goes by, he is harmed again. We are calling on the University to lift the suspension immediately."
It all began when the philosophy professor and Lutheran minister wrote an opinion piece for a Christian blog site.
"My Concordia university is experiencing dysphoria because it is coming under the influence of Woke-ism (that is, a potent cocktail of Progressivism, Neo-Pragmatism, and Marxism)," Schulz wrote in a February 14 article for Christian News.
The philosophy professor, who has been considered as a candidate to be the university's next president, criticized Concordia for allegedly prioritizing candidates who support diversity, equity, inclusion and critical race theory ideology.
The search committee members "have been publicly announcing their determination to have a president who exhibits a 'demonstrated belief in and commitment to equity and inclusion,'" Schulz said. The committee also wants a candidate "who promotes racialized 'diversity in all its myriad forms,'" he wrote.
MORE: Defund campus free speech police, ethicist urges
There has not been a new hire announced yet and the search began in spring 2021.
The university did not elaborate on why Schulz has been suspended, but did release a statement confirming it.
"Last week I took the painful action of suspending one of our employees," Interim President William Cario said in a February 24 statement. "Despite my effort to meet with the individual outside of class time to discuss the situation using biblical principles as outlined in Matthew 18, my request was rejected," Cario stated.
"The employee was suspended with full pay and benefits pending appropriate due process within our church system and the legal system," Cario stated.
University spokesperson Lisa Liljegren directed The Fix to the February 24 news release and shared a further statement on the search process.
"The Board has been clear that the ideal candidate will: be a person of deep faith, humble and devoted to the teachings of Jesus Christ and God's Word; winsome and fervent in their confession of the doctrine of the Lutheran Church," the announcement stated.
The new president "will possess extraordinary intellectual curiosity and theological acumen." The italics are original to the media statement.
Free speech groups offer support
The Academic Freedom Alliance, a free-speech advocacy organization, offered its support to Schulz.
A punishment of Schulz for his criticism of the university "would have a profound chilling effect on open discourse by professors on this campus and through the Concordia University system," Princeton Professor Keith Whittington wrote in a letter.
A punishment, AFA stated, "would damage the university's ability to operate as an institution of higher education."
The Foundation for Individual Rights in Education told The Fix via email that universities must maintain free expression protections when discussing cultural and racial issues.
The Fix had asked how universities can balance academic freedom with a desire to address potential racial issues. Program Officer Aaron Terr said in an email the "steps must be consistent with the university's obligations to protect academic freedom and freedom of expression."
"Administrators should not suppress criticism from faculty, but should welcome it as a potentially valuable source of feedback on institutional policies and culture," Terr said.
MORE: Top female scientist canceled over Halloween costume from 13 years ago
Editor's note: The article has been updated to fix a quote from Dan Lennington and clarify that Gregory Schulz did not apply for the president position but was on a list of eligible candidates selected for consideration.
IMAGE: Wisconsin Institute for Law and Liberty
Like The College Fix on Facebook / Follow us on Twitter