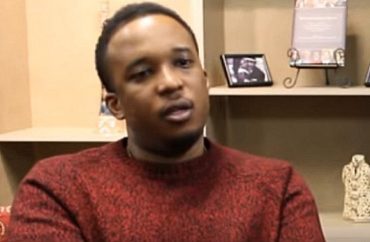 In an interview with the University of Delaware's Review, author, activist, and professor at the University of Maryland D. Watkins warned college-age voters that if Donald Trump wins the presidency, "we can potentially go to war."
"They should understand that this is life and death," Watkins said. "Not just who's popular versus who's not popular. This guy is the pettiest person ever.
"When the person who's running your country is that petty and that ridiculous, someone who is responsible for some of the problems we have today is in office, you're going to be the one to suffer."
A former drug dealer, Watkins is author of the book "The Beast Side: Living (and Dying) While Black in America" which describes life in inner-city Baltimore.
Review reporter Caleb Owens tees up Watkins perfectly to make his points:
With approximately 75 percent of the university's undergraduate student body being white, we happen to have an abundance of privileged, racially un-oppressed people. Despite the potential for the peer education and progress you mention, it evidently is not being utilized. How can this sense to duty be instilled within students, getting them to play a larger role in educating people around them?
Watkins responds that he finds diversity trainings "like the diet that you start after New Years": "It sounds good and feels like the best thing to do, but you're doing it as a reaction to something."
He adds that there are "a lot of people, white and black" who "grow up thinking that racism doesn't exist." Thus, they won't put any effort into addressing that particular issue.
Really? A lot of folks believe racism "doesn't exist?" As in "at all"??
One solution Watkins favors is a common one among progressive activists: mandatory courses on subjects like race and rape culture.
The activist does come out against censoring speakers like Milo Yiannopoulos (who will visit U. Delaware on the 24th) because one can't defeat such folks "if you don't understand how they think, act and move":
I think his rhetoric should be studied and mastered, because you'll never be able to combat that type of mentality if you're always trying to resist it. If you take the opportunity to learn where their ideas came from, it'll be easier to combat them. It's like a chess move. The smart thing to do, which isn't always the easiest thing to do, is to figure out all of the moves try to understand where the ideas came from. That way, you have a million different ways to defeat beyond your own emotions and opinions. I listen to Rush Limbaugh sometimes. I watch Fox News sometimes. So the second I encounter one of these guys I know their moves and I can crush them.
It is highly likely that a Yiannopoulos-Watkins debate would be quite entertaining.
MORE: U. of Delaware, media go nuts over 'nooses' … turns out they're parts of leftover decorations
MORE: U. of Delaware students ignore evidence, still have confab b/c 'non-noose' has 'stirred emotions'
MORE: U. of Delaware College of Arts & Science pledges $1 million for … diversity
Like The College Fix on Facebook / Follow us on Twitter
IMAGE: YouTube
Like The College Fix on Facebook / Follow us on Twitter