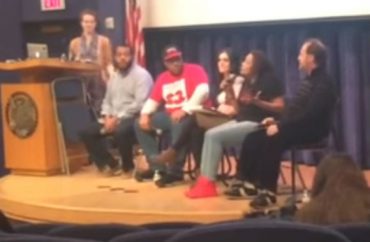 Check your privilege first
The election of Donald Trump must be "understood as a backlash to the Black Lives Matter movement," Georgetown University History Prof. Marcia Chatelain told a "teach-in" on campus Saturday.
Billed as a discussion on "the nature of the relationship of Trumpism to racism, bigotry, and oppression" and "the urgent question of how the left should move forward," the event spent little time on specific ways to fight the Trump administration.
Speakers seemed to be preaching to an already converted crowd, which hovered around 100 most of the day.
They did not bother to define terms such as "privilege" or to give examples of how institutional racism pervades American society.
Whites want their suburbs back
The election was also influenced by whites losing their suburban neighborhoods to blacks following the Great Recession and "wanting them back," Chatelain told the event, which was hosted by Georgetown doctoral and law students.
The coming Trump presidency is "intolerable," she said on the panel about the rise of Trumpism: Calling it "anything less is an injustice to ourselves and the past."
The 8-hour event, which featured multiple Georgetown professors and local activists, consisted of four panel discussions and two keynote speeches.
Leftist groups must be careful with whom they include in their coalitions in response to Trump, activists said on the second panel.
Each group "needs to be clear on what ideological grounds you stand on," said Eugene Puryear of the ANSWER Coalition, an umbrella group with ties to communists and anti-Israel groups. Groups can be harmed if they let in people who make transphobic or homophobic comments, said April Goggans of Black Lives Matter's D.C. chapter.
In a discussion on techniques for organizing and forming unions in the next administration, Georgetown facilities management employee Clarence Wesley talked about his efforts organizing against the university itself.
"The Georgetown administration is not your friend," agreed campus employee Josh Armstead of UNITE Here Local 23, which represents hotel, gaming, food service and airport industry workers. He said Georgetown's administration benefits from "prison labor," without elaborating.
It's oppression for Asian women to be viewed as a 'homemaker'
Academics were short on specifics about what makes a person privileged or how Trump and his allies are oppressing minorities, even as Georgetown Anthropology Department Chair Denise Brennan called for increasing "visibility of oppression in the age of Trump."
George Washington University Philosophy Prof. Vanessa Wills described oppression as an "exclusion from full personhood or society based on identity." An example of this is Asian women being viewed as just a "homemaker" or exotic sexual objects, said Jessica Lee, a program director at the Center for Social Justice at Georgetown.
One of the largest barriers to solidarity on the left is the privilege of certain people, said Omar Baddar, former executive director of the American Arab Anti-Discrimination Committee of Massachusetts.
Lee said her students that are privileged need to know their privilege in order to know when they should speak up. For those with privilege – again, undefined – "it is time to use it in a healthy manner," Prof. Brennan said.
Going forward, the left must contend with an American economic system that is "centered around growth, which leads to exploitation," said Anthony Flaccavento, president of sustainable economic development consulting firm SCALE.
The Trump election showed America is "facing a crisis of democracy," said Georgetown History Prof. Joseph McCartin.
The first three-quarters of the 20th century showed a huge democratic revolution in America, but that suffered a "rollback" with Trump's election without the popular vote, voter suppression and the U.S. Senate's obstruction of democracy by filibustering Barack Obama's agenda, McCartin said.
The event concluded with perhaps its most practical section, on rebuilding the left through union organizing, "democratic ownership" of capital, and "democratic political and economic planning."
'Democratic' ownership and economic planning handout from anti-Trump Georgetown 'teach-in' by The College Fix on Scribd
Like The College Fix on Facebook / Follow us on Twitter
IMAGE: YouTube screenshot