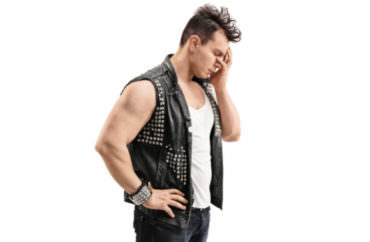 'no.no.no.NO'
DePaul University in Chicago was recently given a "Lifetime Censorship Award" by a free-speech group for its history of silencing conservative viewpoints.
Its fellow Catholic neighbor 15 minutes north, Loyola University Chicago, shows a different way to challenge such views: Punk music!
The Loyola Phoenix reports that current and former professors started their own punk bank, aptly titled "no.no.no.NO," to protest "Donald Trump's presidency and the volatile social climate it has created."
The band's demo page includes four songs that sprinkle Trump's comments from public appearances in the music. Its manifesto begins:
#Resistance + #disruption take many forms.  no.no.no.NO. is our form. Our #resistance draws from the kinetic energies of riot grrrl, punk, funk, R&B, industrial, and hip hop. We follow those who #resisted and #disrupted before us with their music …

The current desire to normalize that which is not normal, decent, and intelligent will not stand.

Not on our watch: no.no.no.NO.
The word "yes" never appears on the page.
The band espouses garden-variety hard-left political positions, including support for unrestricted abortion rights, a core violation of Catholic doctrine ("We say no to … legislation that strips women of bodily autonomy").
no.no.no.NO is playing its first show next week and has already released four videos that use footage of Trump rallies and speeches, as well as an apparent video from the Women's March.
MORE: Loyola lets students bypass Western Civ for diversity courses
One song specifically says the president "Can't read / Can't speak / Can't lead" and he's a "small man."
In addition to Christopher Martiniano, who teaches in Loyola's School of Continuing and Professional Studies, and former psychology professor Raedy Ping, the band includes Martiniano's cousin Anna Raymo and a "seasoned punk guitarist," according to the Phoenix.
Martiniano said the band was conceived at an academic conference the day after the 2016 election, where the mood was "incredibly dour," and stemmed from his desire to do something more than "wallow in anger and sadness" after Trump's election.
The music is inspired by the "Washington, D.C. discord bands" that flourished in the Reagan presidency and its immediate aftermath, and the "riot grrrl" feminist music that followed, he said.
The band's vocalist, Raymo, said she felt privileged that her male cousin would choose her to sing, but she didn't recognize the oppressive patriarchy inherent in that male-driven choice.
But the Loyola-based band members are woke enough to realize they were "somewhat influenced" by the school's Jesuit values of social justice, even though its lyrics are not inherently "Jesuit-y," in Martiniano's words.
Unsurprisingly, no.no.no.NO encourages fans to donate to abortion-rights organizations Planned Parenthood and the ACLU on its demo page.
Read the story, listen to the songs and buy tickets to their Feb. 21 show.
MORE: Loyola students perform mock abortions (VIDEO)
IMAGE: Ljupco Smokovski/Shutterstock
Like The College Fix on Facebook / Follow us on Twitter