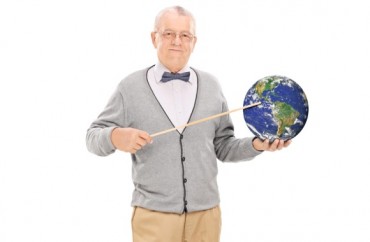 A relatively new website overseen by professors across the globe denounces articles critical of climate change by labeling them not scientifically credible.
The "Climate Feedback" program enlists more than 100 professors and scientists who review articles on climate change to check for "accuracy." The program refers to itself as "nonpartisan" and a "trusted reference on climate information credibility."
But nearly all of the articles the service has reviewed from conservative or right-of-center publications, or written by right-leaning authors, received a negative rating. The professors' claim the articles used "flawed reasoning," or they label them "inaccurate" or "misleading." The reviewers parse each article and offer rebuttals as to why they believe the reports are not scientifically credible.
Many articles receiving these negative ratings dispute that the planet has seen major heating spikes, or they're critical of climate change "alarmism" and "panic," or they suggest global warming is naturally occurring, not man-made.
The project has been billed as "fixing climate journalism."
Recent headlines on Climate Feedback declared:
Breitbart misrepresents research from 58 scientific papers to falsely claim that they disprove human-caused global warming

The Daily Wire makes wild claims about climate change based on no evidence

In Paris Agreement op-ed, US Senator Ted Cruz misrepresents the costs and benefits of reducing greenhouse gas emissions

The Telegraph publishes false information about Arctic climate
Another review criticizes Boston Globe conservative columnist Jeff Jacoby's op-ed "Why are climate-change models so flawed? Because climate science is so incomplete" as having low credibility.
Climate Feedback also reviews left-leaning news outlets as well, and nearly always gives their climate change articles glowing reviews. Even if reviewers find some criticisms, the articles are still given positive ratings, indicating professors and scientists consider them scientifically credible. Recent examples include:
New York Times series accurately describes research on Antarctic ice sheets and sea level rise, but highlights uncertain studies

ThinkProgress story on thawing Alaskan tundra generally accurate but somewhat misleading

Insightful Bloomberg coverage on the rapidly changing Arctic: sea ice melt and permafrost thawing
The majority of articles given positive reviews came from left-leaning or left-of-center publications or networks: Think Progress; Los Angeles Times; BBC; The Washington Post; The Guardian; The New York Times; Mashable; USA Today; CNN; Vox; Rolling Stone; The Boston Globe; and The Independent.
Information about the project explains that it was the idea of Dr. Emmanuel Vincent and his colleagues at the Center for Climate Communication at the University of California-Merced. The articles are reviewed "by a growing group of Ph.D.s from around the world."
The Center for Climate Communication, as well as Vincent, did not respond to multiple email requests from The College Fix for comment.
Vincent told the University of California news in 2016 that "we look for big news – things that have the power to influence public opinion. And we only provide feedbacks to articles that claim to be based in science."
"In many cases there is consensus among the reviewers, in others not," he added. "Articles will often touch on several topics, and may be accurate in one area, but not in another. This is why having the annotations in the context of the article is so powerful."
MORE: Climate scientists rebut oft-repeated 2016 'warmest year on record' claim
MORE: Fed up with the BS, prominent climate change skeptic professor retires
Like The College Fix on Facebook / Follow us on Twitter
IMAGE: Shutterstock