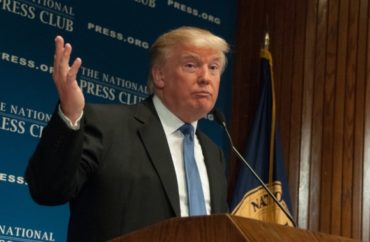 Just the beginnings of a 'genocide attempt'
Like clockwork, university academics wasted no time blaming the allegedly racially motivated shootings in Jacksonville, Florida on Gov. Ron DeSantis, President Trump, the Republican Party and … whiteness.
For example, Columbia University's Anya Schiffrin, who recently earned a PhD on the topic of combatting "disinformation," told Yahoo News that the "increase in polarization, the availability of guns and the virality of white supremacy is, tragically, a hallmark of political culture in the U.S."
Michigan State University's Danielle Brown, a journalism professor who specializes in "media representations and narrative change, reconciliation and reparative solutions and social movements and activism," claimed that the "bevy" of black Americans being killed by those whose political beliefs "mirror a dominant and powerful party in the American political system" are merely the beginnings of a "genocide attempt."
USC's Bob Shrum, who served as a senior adviser to the Al Gore and John Kerry presidential campaigns of 2000 and 2004 respectively, said Donald Trump's election in 2016 gave racists "permission to get out from under the rocks" … and now other "forces in the society" have "given their stamp of approval" to racism.
MORE: Mass shootings linked to 'structural racism,' professors say
Dannagal Young of the University of Delaware (pictured), who researches "the psychology of misinformation," said the GOP's alleged increase in racial and religious homogeneity "stimulates all kinds of primal, social-identity-driven dynamics – they are more activated by threats to their party, more emotionally aroused, more engaged, more readily mobilized."
Edward Waters University's Rahman Johnson told MSNBC Florida legislators "have 'done more to perpetuate' racist violence than to prevent it."
Johnson, also a Jacksonville councilman, said "Look at the fact that we are now targeting African American education in schools. Look at the fact that we are trying to keep diversity education out — end equity and inclusion programs, and come against the trans community."
Also on MSNBC, Princeton's Eddie Glaude blamed critics of critical race theory and equity, alleging they believe these are "threats to democratic life."
The frequent MSNBC guest, who claimed sexism, whiteness and the patriarchy were responsible for the 2020 presidential being close and that President Trump's enforcement of immigration law was "terrorism," added that there's a "segment of society that believes that their way of life is being threatened" and hence turns to violence.
"Trumpism" is a "particular form" of this, he said.
MORE: Yale student paper blames free speech for gay club shooting
IMAGES: Albert H. Teich/Shutterstock.com; U. Delaware
Like The College Fix on Facebook / Follow us on Twitter