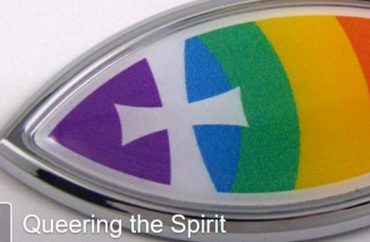 The scholarly rhetoric that aims to normalize queer and transgender studies within religious contexts got a big boost over the weekend when scholars from across the nation and beyond converged at a California university to discuss the topic.
The "Inaugural UCR Conference on Queer and Transgender Studies in Religion" aimed to dissect "the burgeoning subfield of queer and transgender studies in religion," according to organizers.
"I think there's not enough awareness of the way people are living out a variety of sexual and gender identities with a variety of religions and the ways in which that has always been true regardless of the religion we are talking about, regardless of the society," said Melissa Wilcox, a professor of religious studies at UC Riverside who led the effort to organize the conference.
Wilcox's books include "Coming Out in Christianity: Religion, Identity, and Community," "Sexuality and the World's Religions," and "Queer Nuns: Religion, Activism, and Serious Parody," according to the professor's online bio.
"She is currently finalizing two textbooks focused on sexuality and queer studies in religion, and beginning work on two new projects: one, tentatively entitled Queering/Religioning, will be an exploration of theory at the intersection of queer studies, trans studies, and religious studies; and one, tentatively entitled Ecstasies, will focus on leather spiritualities," the bio adds.
Wilcox, in an email interview with The College Fix, said the conference marks an exciting time for this field.
"The field of queer and transgender studies in religion has been growing especially over the past decade," Wilcox said. "Because this is a growing subfield within religious studies the main focus is really to give people who work in this subfield the opportunity to come together and share their research with other people who are experts in the field."
The three-day conference, held Feb. 22 through Feb. 24, included nearly 60 presentations and breakout sessions. Religions addressed included Christianity, Islam, Catholicism, Mormonism and Judaism.
Topics included: "What Queer Mormons Can Tell Us About Queer Theory," "The White, Cis/Straight Entitlement to Sexual Expression in Evangelical Christianity," "Sacramental Shame in The Black Church: How Racism and Respectability Politics Shape the Experiences of Black LGBTQ and SameGender-Loving Christians" and "Rethinking (Dis)connections Between Islam and Trans Identity in Turkey."
Wilcox said the conference was open to the public and many undergrads were expected to attend, adding "just hearing about the scope that is out there tends to be really interesting for students regardless of the position they're coming from."
"I am really excited that this particular subfield of study has gotten to the point where we have such a diversity of perspective and opinions," the professor added, noting scholars from across the nation and globe are part of the conference.
Among the keynote speakers was Max Strassfeld, an assistant professor of religious studies at the University of Arizona, whose talk was on "Rabbinic Gender and the Politics of Trans Cosmology."
Another keynote address was by Thelathia "Nikki" Young, an associate professor of women's and gender studies in religion at Bucknell University. Her work is described by organizers as focused on "the intersection of ethics, family, race, gender, and sexuality, and she is interested in the impact of queerness on moral reasoning."
Both Strassfeld and Young, as well as some of the other speakers, declined to comment to The College Fix.
MORE: Professor Promotes 'Queer Christ' Concept To Students
Like The College Fix on Facebook / Follow us on Twitter