Earlier this month, Turning Point USA held an event at Rider University titled "White Privilege is a Myth" which, it seems, was quite offensive to a few academics.
For example, the Rider political science department ceased advertising TPUSA events on its listserv "due to the lack of 'a clear understanding of historic realities,'" and the poli sci chairperson compared her department advertising the "White Privilege is a Myth" talk to the "astronomy department promoting a 'flat-earth' event."
So … there's now a "scientific consensus" on white privilege, as definitive as the fact that planet Earth is a sphere?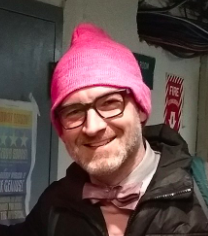 Rider music professor Justin Burton (left) appears to agree with such an assessment, and considers the TPUSA event from another angle: that of critical race theory. Writing in The Rider News, Burton, whose research "revolves around popular music/culture, music technologies, hip hop, and critical race theory," begins by stating "There are some facts about United States history that are simply not up for debate," and one of those is that "black, brown and indigenous people" are, and always have been, marginalized.
Not only did the TPUSA talk dispute this fact, Burton says, it treated the "intellectual histories" of those populations "as if they were unimportant or non-existent":
The event, called "White Privilege is a Myth," made no attempt at serious intellectual work, which would involve a good-faith engagement with the authors and texts that spell out what whiteness is, how it works and how it affects the lives of folks who aren't white. Serious intellectual work would involve the thoughtful choice of a title that doesn't immediately signal to black, brown and indigenous people on campus that their intellectual heritage is being used for clickbait.

Instead, "White Privilege is a Myth" was a pseudo-intellectual exercise that muddled rather than clarified terms, ignored rather than engaged the vast literature that defines what white privilege is and denigrated rather than honored the work of minority scholars. We are meant to believe that this is only fair, and I have heard the following excuse offered for why Rider would be party to an event called "White Privilege is a Myth": a healthy university allows disagreement. First amendment rights allow all opinions to be voiced and students who try something and misstep should be treated with patience.
The Rider News article about the event doesn't offer many details other than there were quite a few disruptions. TPUSA videos about white privilege emphasize the success of Asians/Asian-Americans and Indians/Indian-Americans: If there's "white privilege," how is it these two socio-economic groups fare better than Caucasians? Dennis Prager echoes this point, and offers more counters to the notion white privilege is a fact, including the high suicide rate among whites, the benefit of growing up in a two-parent household, and how minorities benefit from their status when it comes to higher education.
However, part of the essence of critical race theory is this: The First Amendment is a good thing and all, but it has to be tempered by consideration of the feelings of those who have been historically oppressed. Indeed, I thought Burton's sentiments and those of the political science chair sounded familiar:
[Critical race theory] turns its back on the Western tradition of rational inquiry, forswearing analysis for narrative. Rather than marshal logical arguments and empirical data, critical race theorists tell stories — fictional, science-fictional, quasi-fictional, autobiographical, anecdotal—designed to expose the pervasive and debilitating racism of America today. By repudiating reasoned argumentation, the storytellers reinforce stereotypes about the intellectual capacities of nonwhites.
Burton believes nonwhites cannot handle a different view on privilege without becoming emotionally overwhelmed (being treated as if they're "unimportant or non-existent," and their "intellectual traditions [are] invalidated") and even hurt ("a quick analysis of where resources and power have been and are distributed at Rider tells us that it's the very students who were placed in harm's way by this week's event …").
I contacted the professor asking him to elucidate his points; he did not respond.
MORE: Critical race theory and free speech limits based on feelings
MORE: Remarks at USC lead to calls for mandatory 'critical race theory' trainings
IMAGES: YouTube, Twitter
Like The College Fix on Facebook / Follow us on Twitter