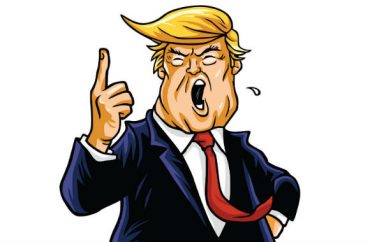 President Trump's "inflammatory rhetoric" regarding immigrants which "stokes fear and distrust" can harm the health of Latino families residing the US, according to various studies.
It can affect both illegal and legal-status families.
UCLA professor Laura Wray-Lake, who's studied how Latino teens have reacted to Trump's immigration policies, tells the Huffington Post that beyond the obvious disruptions that deportations and family separations cause, "we're also coming to understand is that even for youth and families who are not directly threatened by these […] policies, the policy climate is creating a more hostile and unsafe environment."
New York University's R. Gabriela Barajas-Gonzalez adds that "even kids who are documented and legally protected from deportation can feel the emotional burden of an anti-immigrant climate." She says young Latinos "can identify the injustices" in the immigration debate, and claims the language used in discussions on the topic is "dehumanizing."
"Dehumanization is never healthy," she says.
In a study, Barajas-Gonzalez and other researchers found that children in "mixed status" families — those with legal children and at least one undocumented parent — suffered "persistent stress and emotional discomfort."
"Mixed-status families may change their daily activities in attempts to protect themselves, consequently becoming more socially isolated," said Barajas-Gonzalez, who led the report. "For some children, the stigma associated with being from an immigrant family, experiences with discrimination and increased consciousness of legal status is marked by fear, hyperawareness and hypervigilance."

Children with these symptoms ― which can also be associated with post-traumatic stress disorder and anxiety ― tend to be constantly on guard and tense, Barajas-Gonzalez added. "This state of arousal can be exhausting and impede children's ability to focus in school," she said.

Dr. Kathleen Roche, an associate professor of prevention and community health at George Washington University, agrees. "Citizen children of immigrant parents face risks to their mental health and school success when their parents suffer from elevated psychological distress," she added.

Roche was the lead author on a March report by GWU's Milken Institute School of Public Health that looked at how immigration news and changes in enforcement tactics impacted Latino parents and their teenage children in the U.S.

"Fear and psychological harm triggered by recent immigration events appear to spill over into the lives of legally residing U.S. Latinos," she said. As a result, people weren't seeking help to take care of their own health, safety and well-being.
Immigration rhetoric — and Donald Trump — also may be factors in premature births, according to a recent Harvard study. Researchers looked at New York City data and found a 0.5% increase in preemie births (7.7% to 8.2%) between the time Trump became a presidential candidate and his inauguration in early 2017.
MORE: David Hogg says U.S. is stolen land, justifies illegal immigration
MORE: Ithaca CRs called racists for anti-illegal immigration statement
IMAGE: doddis77 / Shutterstock.com
Like The College Fix on Facebook / Follow us on Twitter