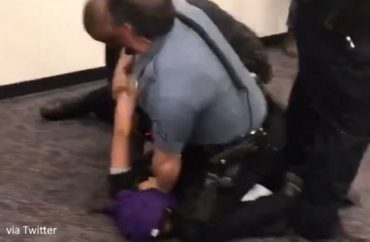 Title of talk was 'Men are Not Women'
Daily Wire conservative commentator Michael Knowles had bleach thrown at him during his guest appearance at the University of Missouri–Kansas City on Thursday night.
Hosted by the Young Americans for Freedom chapter on campus, the title of his speech was "Men are Not Women," drawing a group of transgender rights protesters who shouted down the beginning of the speech before the faux bleach incident.
"He got me a bit in the face and on the side. At first I thought it was paint because of the color and smell. Later found out it was bleach. These are the people conservatives on campus are up against," Knowles tweeted about the incident.
Later Knowles clarified on Twitter that he had learned from police the substance was not bleach but likely intended to mimic it.
"Just spoke with police. Despite initial reports from multiple witnesses in room that substance was bleach, it now appears to be an odorous substance merely designed to smell like bleach, not the chemical," he tweeted. "It's still not clear what exactly substance was, but now seems apparent this thug only wanted to give the impression of a chemical attack without actually getting charged with a felony. More info to come as I hear it."
A video circulating on Twitter shows campus police apprehend a suspect.
Great speech Michael, I was in the front row and caught the whole thing on video. pic.twitter.com/fVeaXs0Q4p

— Collin Tuso (@collin_tuso) April 12, 2019
Additional tweets from Knowles detailed the incident.
A student tried to squirt bleach on me during my speech tonight. Lucky for me we was a left-winger and couldn't even shoot a squirt gun! pic.twitter.com/VHKS4hD4vW

— Michael Knowles (@michaeljknowles) April 12, 2019
At least one person was injured during the incident, reports KCTV:
There were also protesters inside the lecture hall in an attempt to disrupt the speech. Someone who was there showed KCTV5 News video that they took and protesters could be seen going up and down the stairs, yelling and shouting, but things were not physical. Then, someone can be seen getting taken down to the ground.

A university spokesperson said it had gotten to the point of being disruptive, so they were trying to get people out of the building. Something then "went off" or "liquid" was sprayed, according to witnesses. Due to things becoming physically disruptive, they tried to arrest someone.

Everyone was then pushed out of the room, but people were trying to get back inside.

A UMKC spokesperson confirmed that university police used a taser on one protester and used pepper spray, or O.C. spray, on several others.
The university addressed the melee in several tweets Thursday night.
"Protesters disrupted a lecture on the UMKC campus this evening that was sponsored by a student group. The protest turned disruptive and after several warnings, the disruption persisted, and one protester was arrested," university officials stated on Twitter. "We have a responsibility to allow free speech, but we cannot condone physical disruptions of peaceful activities. We believe free speech can be exercised constructively in a way that doesn't put people at risk. We are gathering facts and will review campus policies & procedures."
Video of the event shows some audience members trying to shout over Knowles before the incident occurred around 20 minutes in. After things calmed down he finished his speech.
MORE: 11 times campus speakers were shouted down by leftist protesters
Like The College Fix on Facebook / Follow us on Twitter