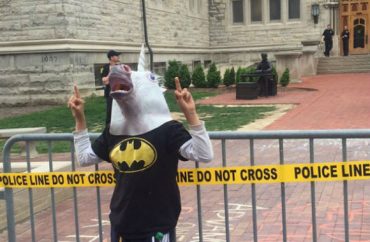 Twix Guy ruined his dog's dish in protest
The first rule of journalism is "show, don't tell," and the Indiana Daily Student does an excellent job showing you exactly how ludicrous the protesters were outside Charles Murray's lecture at Indiana University-Bloomington last night.
The libertarian social scientist, whose 1994 work The Bell Curve may be the most hated and least read book among student activists and their faculty mentors, continued speaking about Donald Trump's election over "muted noises that … sounded like a broken metronome and people screaming on a roller coaster":
Protesters filled the area between Franklin Hall and Sample Gates and screamed, "Fuck Charles Murray." One man banged a pot with a tire iron near the windows of Presidents Hall by Indiana Avenue. A Twix bar hung casually from his mouth. …

Although [46-year-old Tom] Westgard, a Bloomington resident, has protested in the past, he had never used this noisy method before. The pot was severely dented on the bottom from his banging, and he said his girlfriend's pitbull, Birdie, probably wouldn't be able to use it as a dish any longer.

On the other side of Sample Gates, a young boy in a unicorn mask stood on the makeshift fence and raised his middle fingers to police. The yellow Batman logo on his black shirt matched the POLICE LINE: DO NOT CROSS tape behind him.
Man banging pots and eating a Twix: "I'm not sure there's much they can do with me outside on a public sidewalk" @idsnews pic.twitter.com/Cav6uEczP4

— Lydia Gerike (@lydi_yeah) April 11, 2017
Of course, there was a megaphone-wielding graduate student who said she didn't object to conservative views as long as they embrace "equality" (undefined), and another protester with an unusual conundrum:
On Monday afternoon, senior Stella Shaffer burned her ticket to Charles Murray's event in a Facebook Live video. As she stood in Tuesday's protest, she was detained by police for a reason she said she did not know. …

By going, the consequence she faced with the detention sparked a specific fear as a transgender woman.

"I was scared they would send me to men's jail," Shaffer said.
Protestors switching btw "Fuck Charles Murray" and "Fuck Donald Trump" @idsnews pic.twitter.com/G7ULGOmrjy

— Lydia Gerike (@lydi_yeah) April 11, 2017
Protesters tried to replicate the Middlebury College melee that injured a professor escorting Murray out of the building:
The protesters waited outside every door of Franklin Hall as the talk came to a close to confront the controversial social scientist despite the police barricades keeping them yards away from the building and Murray.

By the time he left, protesters were spread out around the building.
Sadly, they failed to send anyone to the hospital.
A car drove through the Sample Gates to escort Charles Murray out of Franklin Hall and away from protests. https://t.co/h4Q1LTxTXB pic.twitter.com/tzBLQbkKIX

— IndianaDailyStudent (@idsnews) April 12, 2017
Read the delightfully detailed story and see tweeted photos and video from reporter Lydia Gerike, Indiana Student Journalist of the Year 2016.
Like The College Fix on Facebook / Follow us on Twitter
IMAGE: Lydia Gerike/Twitter