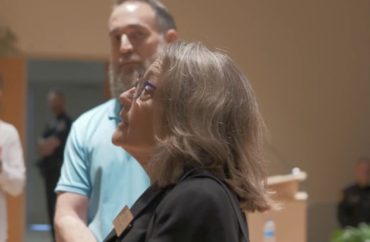 Provost had pushed to cancel a town hall meeting featuring Rufo 
New College of Florida Provost Suzanne Sherman, who fought  to cancel a town hall meeting held by new trustees following an emailed threat of violence, has "stepped down" from her administrative role.
New College announced her departure on Monday, according to the Sarasota Herald-Tribune.
Sherman had worked at the college for more than 30 years and became provost in 2020. The Herald-Tribune also reported that Sherman (pictured) is a chemistry professor at the New College, but her faculty bio appears to have been taken down.
The New College "Office of the Provost" website lists Brad Thiessen in the role.
Firebrand education reformer Christopher Rufo, a newly appointed trustee at the New College of Florida, refused in January to shut down a townhall meeting with faculty and students over a threat of violence despite Sherman and other campus officials telling him to do so, The College Fix reported Jan. 30.
"We are setting a new standard — and we will not cave to the mob," Rufo wrote in a March 20 tweet in which he announced Sherman's departure.
The woman at the beginning of this video, Provost Suzanne Sherman, has officially "stepped down" from her role at New College of Florida. We are setting a new standard—and we will not cave to the mob. https://t.co/UpLmfpUc54

— Christopher F. Rufo ⚔️ (@realchrisrufo) March 20, 2023
At issue before the January meeting were two emails directed at fellow New College Trustee Jason "Eddie" Speir. One stated in all caps: "SEE YOU ON WEDNESDAY ASSHOLE, MAKE SURE THAT YOU HAVE A FLAK JACKET ON, YOU MOTHERFUCKIN MORON!"
Sherman said the threats were "credible" and had "not been thoroughly investigated," according to a video of her conversation with Rufo posted on social media.
Rufo responded that the threats were "vague."
The video also shows that Rufo told New College President Patricia Okker in a phone conversation he would not cancel the event.
"You have a culture here in which the most aggressive and hysterical factions of activists can have veto power over everything, and that's gonna stop, and we have to model that we have the courage to set a new standard. And so, I appreciate it, but we're going to go forward as planned," he said.
Without waiting to hear her response, Rufo hung up the phone, the video shows.
The meeting went on as planned, The Wall Street Journal reported.
A controversial overhaul of the underperforming progressive college in Florida began in earnest in early February as the newly minted conservative majority on the board of trustees, appointed by Florida Gov. Ron DeSantis and including Rufo, fired President Okker and set in motion changes meant to convert the institution to one focused on excellence and the teaching of Western Civilization, The Fix reported that month.
MORE: 'Progressive' college offers easy transfers to students at Florida college now run by conservatives
IMAGE: @realchrisrufo/Twitter
Like The College Fix on Facebook / Follow us on Twitter