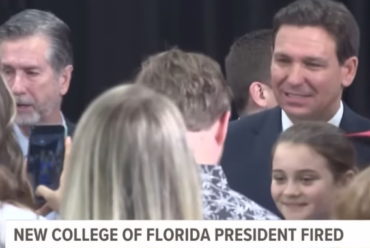 An overhaul of an underperforming progressive college in Florida began in earnest on Tuesday as the newly minted conservative majority on the board of trustees fired its president and set in motion changes expected to pave the way for the school to become a liberty-minded institution.
The center-right trustees, appointed by Republican Gov. Ron DeSantis, fired New College of Florida President Patricia Okker and appointed Richard Corcoran, former education commissioner under DeSantis, as interim president, The Wall Street Journal reported. Corcoran is expected to assume the position in March.
The trustees also set in motion a review of the college's Office of Outreach & Inclusive Excellence in what is anticipated as being the first step toward abolishing it.
The overhaul comes at DeSantis works to institute a ban on diversity, equity and inclusion initiatives at public universities across the state, as well as promote excellence, focus on Western Civilization, install post-tenure review, and forbid mandatory diversity statements for hiring and tenure.
At the New College of Florida, Tuesday's board meeting brought protests and lamentations from faculty and students.
"Members of the audience repeatedly interrupted the proceedings to express displeasure at the changes. In the public-comment period at the start of the meeting, numerous critics of the shake-up assailed the changes as disruptive for students and a threat to the college's welcoming environment and academic tradition, with its focus on interdisciplinary scholarship and in-depth research projects," the Journal reported, adding that at a campus rally, some students held signs reading "Educational Freedom" and "Hands Off Higher Ed."
Politico reported that students and parents "protested what they called a 'hostile takeover' at New College."
"They urged Okker to stay on as president and push back against the new mandates from the DeSantis administration to model the school as a 'Hillsdale of the South' in reference to the private conservative religious 'classical' college in Michigan."
But the new trustees appeared nonplussed by the protests and set on their plans to revamp the school, according to news reports, and DeSantis has reportedly pledged $15 million in state funding to help recruit and hire new faculty.
New College of Florida was beset with problems long before DeSantis tapped the new trustees to turnaround the school in what has been billed as an effort to take a highly progressive-left campus and turn it into the "Hillsdale of the South."
"Founded in 1960, New College has struggled to boost its enrollment numbers, failing to meet a target set in a 2018 strategic plan to reach 1,200 students by 2023. Republican lawmakers in 2020 considered proposals to merge the institution with another state school," The Wall Street Journal reported.
MORE: 'I will not cancel': Rufo refuses to shut down campus townhall over vague threat
IMAGE: 10 Tampa Bay YouTube screenshot
Like The College Fix on Facebook / Follow us on Twitter