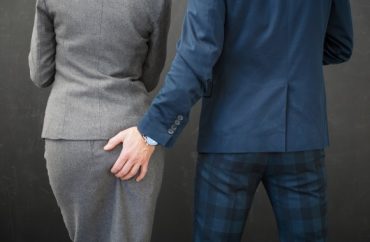 Is a joke "just a joke?"
Not always, says Washington and Lee University psychology Professor Julie Woodzicka, who argues some jokes can impact way more than the funny bone.
In a presentation on campus earlier this year called "Just a Joke? The Social Consequences of Disparagement Humor," Woodzicka highlighted her research on disparagement humor.
"When people hear sexist jokes—people who are high on sexism hear sexist jokes—they are more likely then to discriminate against women," she said in her presentation.
She clarified that exposure to disparagement humor, which also includes anti-gay and racist tendencies, does not cause a person to discriminate. Instead, men who are already high on sexism release prejudice with this humor, making them more inclined to discriminate in the future, she said.
Releasing this prejudice reinforces the hierarchy of men over women and creates a hostile work environment that can lead to sexual harassment, she said.
This doesn't hold true for women, who Woodzicka said are not high enough on sexism to "release" prejudice.
According to Woodzicka, people don't generally make blatantly sexist remarks because America has a "fairly PC" society; but conveying the same message with humor changes the normative context for groups high on prejudice, suddenly making it acceptable.
"To me, it's just really interesting, because if it were a statement with the exact same message, it would be a big deal," Woodzicka told The Roanoke Times. "But because it's funny, it's OK."
In her study, disparagement was depicted in terms of a "normative window." This places prejudice on a spectrum and categorizes it as justified, suppressed and unjustified. Those who fall into the "suppressed" category — the middle of the road — are typically the most discriminated against, she said.
"Perhaps disparagement humor fosters discrimination only for people who are in that middle groups, where the norms are shifting," Woodzicka said in her presentation. "They're not consensual, so people know in general you don't say bad things about that group or you don't treat them unfairly."
She said even if students aren't offended personally, it's important for them to confront the joker so that a sexist culture is not encouraged. The most effective response to countering sexism is "that's not funny," because it wouldn't decrease a person's likeability, Woodzicka explained in her presentation.
The idea that jokes are discriminatory or offensive — especially on college campuses — has recently prompted many stand-up comedians such as Chris Rock and Jerry Seinfeld to refuse to perform at universities. They say students today are too uptight.
MORE: Seinfeld says college kids 'don't know what the f*ck they're talking about'
"It's time to remind the ivory tower that comedy is not only fun, it's also a powerful social tool," the Foundation of Individual Rights in Education said on behalf of Can We Take a Joke?, a new documentary set to debut today in theaters nationwide. "Comedy helps to highlight social trends, current events, politics, and more, thereby opening new opportunities for dialogue."
Woodzicka said it's a balancing act.
"Disparagement humor can be funny—especially when done well by talented comedians," Woodzicka told The College Fix via email. "Freedom of expression is very important. However, decreasing prejudice is also really important."
Since her research focused on the effects of disparagement humor and its subsequent discrimination, Woodzicka declined to comment on the new "Can We Take a Joke" documentary.
But, in her lecture, she noted that joking brings people together.
"I hope humor doesn't go away and I hope it doesn't get to a point where people are so careful that they can't feel like they can joke," Woodzicka said in her presentation. "That said, they need to be mindful about how things can really impact interpersonally, but also what it does to our society."
MORE: College students need Lenny Bruce: A review of 'Can We Take a Joke?'
Like The College Fix on Facebook / Follow us on Twitter
IMAGE: Shutterstock