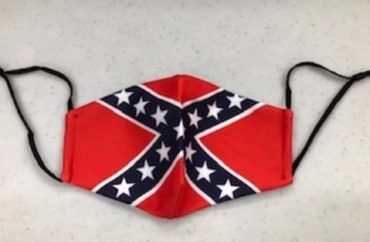 UPDATED
Investigates teachers for not instructing the student to remove the mask
A public high school in Missouri has banned a student from wearing a face mask with the Confederate flag on it.
The school is also investigating some teachers for not telling the student to remove the mask, according to local news reports.
"One parent said the student showed up at Oakville High School wearing the Confederate flag mask and was allowed to continue through his school day," Fox 2 reported on January 20. The local news station said the student wore the mask on Tuesday, January 19.
"What type of message are you sending to my child by allowing another child to sit in the classroom with this mask on," Tamica Harding told Fox. Harding is a parent of a student at Oakville High School and she is also black.
Fox paraphrased Harding and reported that her daughter, who shares a class with the student, was "hurt, frightened, and intimidated."
The mask wearing led Harding to call the school and complain:
Harding told Fox 2 she called the school but two hours passed before she got a response. When an investigation was launched, the student wearing the mask had already left the building for an off-campus program, according to school officials.
The school said the mask created a "disruption" and the student would no longer be allowed to wear it to campus.
"I want each and every one of our students to know that this is not a situation we take lightly," the school's principal said in a message to the school community.
"Confederate symbols are steeped in racism. This symbol and any such symbols of disrespect are offensive to our students and our staff and infringe upon our belief that everyone deserves the right to feel safe and respected in our school communities," Principal Tamara Sunkett said.
She said the school has "made it quite clear that clothing that creates a disruption, including the confederate flag, is not allowed on our campus."
Now some teachers at the school face an investigation for not ordering the student to remove the mask.
"A district spokeswoman said the lack of response by teachers remained under investigation and would be addressed as a personnel matter," the Fox affiliate reported.
MORE: Impeachment sought against student defending 'Thin Blue Line' masks
Editor's note: The article has been updated to clarify that multiple teachers appear to be under investigation, not just one teacher.
IMAGE: The Dixie Shop
Like The College Fix on Facebook / Follow us on Twitter