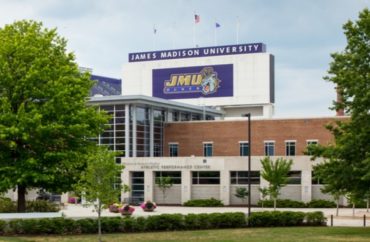 Still taking feedback on recommendations to rename buildings
Some things are more important than fiscal prudence in a time of plummeting university income. Namely, an associate vice president for diversity, equity and inclusion.
James Madison University made an exception to its COVID-19 hiring freeze this term by creating the new Student Affairs position, President Jonathan Alger told the community Friday morning in an email announcement forwarded to The College Fix.
It's not clear whether the Virginia public university previously announced, outside of job search websites, that it was hiring its first ever AVP of DEI, to use the jargon of higher ed. The Fix found no news coverage on the subject.
Every job listing The Fix found said the position had been deleted or was no longer available. The earliest posting for the job appears to be March 24, and that one was closed on June 4, suggesting JMU did not get the applicants it wanted.
MORE: JMU distributes seven-page list of banned phrases to freshmen
Friday's announcement, which posted this afternoon, is titled "Racial Equity Actions and Campus Building Names: Update." Alger begins:
Issues of systemic racism that have long plagued our nation, and in particular laws and practices that have suppressed the rights of Black Americans, are at the forefront of national and international attention. Members of the JMU community have actively participated in discussions and actions near and far, insisting that real change and reform are needed and reminding us of the hard work ahead for us all. During these extraordinary times, we want to acknowledge the stress, pain, anger and overall burden within our Black community and our overall stress as a JMU community as well. Along with other institutions in society, it has been and will continue to be our responsibility and commitment to address disparities within our community moving forward.
Its "next steps" including filling the associate vice president for diversity, equity and inclusion by the fall semester, according to Alger. He said JMU created the position in the spring semester "as an exception to the current hiring freeze due to the economic impact of the [novel coronavirus] pandemic on the Commonwealth's budget."
JMU is also developing "a new advisory group on diversity, equity and inclusion that will report to me, and will include student, faculty, staff, community, and alumni representation," he said. Alger noted the taxpayer-funded institution recently held a "virtual conversation" with campus and municipal police chiefs "to discuss rethinking policing and building community trust."
MORE: JMU pays teachers $250 to become more 'inclusive'
Its Task Force on Inclusion "examined classroom inclusivity, student campus climate, employee climate, and the University's history and context," and JMU is now preparing for a "campus-wide climate study." It has amended faculty searches "to ensure diverse candidate pools" and is seeking student feedback on classroom inclusivity, a term Alger doesn't define.
It's hoping to more fully incorporate "issues of race and equity" throughout the curriculum, "possibly including General Education," the president said. JMU's "area studies programs" are getting new money from Academic Affairs, including Latin-American, Latinx and Caribbean Studies; Asian Studies; and Africana, African-American and Diaspora Studies. The latter is getting a "permanent, central visible location" on campus, Alger said.
Buildings named after "individuals who fought for the Confederacy" have not been renamed yet. The task force's History and Context working group published its research and has recommended renaming the three halls, but the university is still taking feedback, the president said.
"As we seek to do the difficult work of dismantling racism and promoting equity, we must find ways to come together, listen to and learn from one another, and create a more fully inclusive campus," he concluded.
Read the email announcement, which links to a comment form on building names that is left out of the website announcement.
MORE: JMU faculty book club encourages 'allyship' with nonwhites
IMAGE: Steve Heap/Shutterstock
Like The College Fix on Facebook / Follow us on Twitter