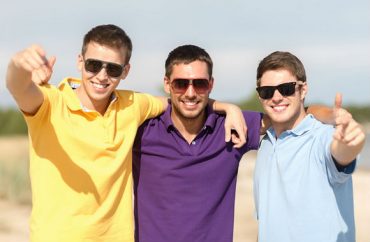 Punished for behavior that was 'adjudicated years prior'
Five fraternities at West Virginia University claim they are being sanctioned for behavior that had already been punished, and a civil-liberties group is warning the school its treatment of the groups is unconstitutional.
At least one of the fraternities claims that several officials have told the group that it has no due process rights. One WVU official was caught on tape explicitly telling multiple Greek-letter organizations that "student organizations do not have due process rights."
This treatment from the administration led the five fraternities to split off from the university and form an Independent Interfraternity Council, which was followed by a public denouncement from President E. Gordon Gee.
Conor Wischmann, president of the IIFC, told The College Fix that his fraternity Sigma Chi "was never given the opportunity" to meet with the working group that imposed the new sanctions "for events that had already been adjudicated years prior."
It was "a clear example of WVU's disregard for a fair and equitable due process," he wrote in an email.
"This is a particularly egregious case because of WVU's complete refusal to provide even a semblance of due process to these student organizations before imposing sanctions," the Foundation for Individual Rights in Education's Zachary Greenberg, who sent a warning letter to WVU earlier this month, told The Fix in an email.
The public university is disputing the characterization. A spokesperson told The Fix in an email that the sanctions are a "response to a history of behavior," not a so-called repunishment, and WVU has "no intention of changing course."
Greek shutdown is 'the path that many of our peers have chosen'
As part of a February plan to make Greek life safer and more responsible, the administration appointed a panel to review the "judicial history" of both fraternities and sororities dating back to 2014.
The behavior under review included incidents that had already been tried and for which members were already held accountable.
The "Reaching the Summit" plan also raised GPA requirements to join Greek life, reduced the "new member education period" to four weeks, and imposed new "continuous educational programming" on the organizations, including for sexual misconduct and "racism & prejudice."
Only those organizations that agreed to the new rules and were not suspended after the judicial review would be allowed to remain recognized organizations for the fall semester.
MORE: Judge scolds public university for withholding 'even a semblance of due process'
When the plan launched, the university told the public it was putting an "immediate moratorium on all social and recruiting activities" due to "concern over continued behavioral issues." President Gee (left) said the only alternative to working with Greek life "as partners" was shutting it down entirely, "the path that many of our peers have chosen."
Matthew Richardson, director of the Office of Fraternity & Sorority Life, was placed in charge of the working group.
The final report and recommendations of the working group emphasized that the review of each chapter, which took place May 29, was "blind insofar that the organizations were coded to help protect against implicit bias by the members of the Working Group."
According to WVU Today, the university's in-house media publication, the traditionally African-American National Pan-Hellenic Council and the sororities of the Panhellenic Association "are not immediately affected, but will adhere to the new community standards beginning in fall 2018."
'A textbook example of double jeopardy,' and a violation of WVU's rules
The sanctions against Kappa Alpha Order, Theta Chi, Alpha Sigma Phi, Phi Sigma Kappa, and Sigma Chi are "constitutionally infirm" because the university did not give the fraternities "adequate notice of charges or a meaningful opportunity to contest the sanctions," FIRE's Greenberg, program officer for its Individual Rights Defense Program, told President Gee in a Dec. 7 letter.
He pointed to a leaked audio recording of a February meeting between Richardson, the working group leader and Office of Fraternity & Sorority Life director, and Greek-letter organization presidents.
"Student organizations do not have due process rights; they don't," Richardson says on the recording. "There doesn't need to be a hearing. There doesn't need to be anything. In theory, I can just say 'goodbye.'" He told the chapter presidents they and their national organizations would have the "opportunity to come in front of the working group … and make a case to make us change our mind."
The national Alpha Sigma Phi told The Dominion Post in August that its chapter had initially considered "disassociation" from the university because "they were told on multiple occasions, by multiple WVU administrators, that student organizations have no due process rights and student organizations could be suspended without even holding a hearing or being given an appeal option." It reconsidered after meeting with President Gee, who "seemed committed" to creating a process offering a "hearing and an appeal."
The five fraternities received sanctions ranging from "three-year suspensions to the somewhat Orwellian-sounding mandatory 'educational programs,'" FIRE wrote in a blog post last week. They also included loss of recognition, "social restrictions," and a "written warning concerning risky social behavior."
"The letters imposing the sanctions did not contain any information regarding the initiation of disciplinary processes, notice of underlying misconduct, or opportunities to contest or appeal the findings," Greenberg told Gee.
The university's procedure for judging the groups was exposed in response to a public records request by the school newspaper, the Daily Athenaeum.
In May, Richardson led a meeting that showed the working group slides of each Greek organization's collective GPA and all conduct violations that were reported from 2014-2018, including for individual members and "pending" adjudications.
MORE: Harvard dean threatened to blackmail all-male clubs with rape claims
"At no point did the working group share with the fraternities which incidents it based its determination on," justifying the omission by calling it a "Recognition Review process," Greenberg (right) wrote.
In its blog post, FIRE said this was "a textbook example of double jeopardy, and WVU apparently had no problem with it."
Richardson is wrong that the fraternities do not have due process rights, Greenberg told Gee. Public universities have to uphold their 14th Amendment rights under federal case law going back more than 50 years, he said, citing a 1966 decision: "adequate notice of opposing claims, reasonable opportunity to prepare and meet them in an orderly hearing adapted to the nature of the case and finally, a fair and impartial decision."
The student code of conduct also has "specific procedural protections" that the university must provide "prior to official university punishment," including the right to receive "allegations in writing" and explain the group's "side of the incident" before the "final investigative decision."
WVU did not do this, instead "imposing new penalties not only for long-resolved cases, but for matters in which the students or their organizations had not been found responsible," Greenberg wrote, requesting a response from WVU by Dec. 21.
"FIRE has weighed in on many cases where universities fail to give their students notice of the disciplinary charges, a hearing, or a chance to confront adverse witnesses," Greenberg told The Fix:
However, in this case, none of the proper procedures were followed — no notice, no formal hearing, and no opportunity [to] present a defense — all of which violates WVU's own policies on student groups and the applicable law.
National fraternity accuses Gee of 'mudslinging' and defamation
Gee responded to the creation of the IIFC by warning parents of students Aug. 19 that the five fraternities opposed the "necessary" steps to make Greek life "safe and aligned with our University values."
He singled out Kappa Alpha for advertising "rush activities" on social media "in direct defiance" of university rules: It even "escalated this afternoon to specifically invite freshmen," who are not allowed to rush until spring semester.
He said the international Sigma Chi organization had placed its WVU chapter on interim suspension because it was "not supportive of the local chapter's decision" to disassociate in early August.
Sigma Chi International told a different story in an October email to chapters provided to The Fix by Wischmann, the IIFC president. It accused Gee of "mudslinging tactics" and said it supported the chapter's desire to disassociate.
The "Reaching the Summit" plan took an "unnecessarily paternalistic, arbitrary and capricious approach," right as the chapter was on the verge of achieving "good standing" after a 2016 suspension by both WVU and Sigma Chi International, Grand Consul W. Thomas Geddings Jr. wrote.
The Alpha Kappa Chapter of Theta Chi is now the fourth WVU fraternity to disassociate, following Kappa Alpha, Sigma Chi and Phi Sigma Kappa. Phi Sigma Kappa announced its disassociation on Saturday. https://t.co/w1pXhSe41B.

— The Daily Athenaeum (@DailyAthenaeum) September 24, 2018
MORE: Fraternities fortify, rebrand under threat from UT officials, activists
Though it was suspended for "the same incident in 2016," the chapter accepted the university's invitation to "re-apply" – at which point it was given "additional sanctions that pointed back to the 2016 incident which had already been adjudicated and worked through," he wrote.
What Gee called "interim suspension," Sigma Chi International called a "pause" on its WVU chapter, intended to "sort through the specifics of the situation" with the administration:
To our dismay, our efforts to establish a conciliatory conclusion ultimately led nowhere and we were placed in the unenviable position of deciding whether we would support either our chapter or a tone-deaf administration. We are now determined to support our chapter with an even more enhanced investment in ensuring they have the highest quality fraternity experience.
"Shame on" Gee and Dean of Students Corey Farris "for disparaging the character of their students and for attacking our organization" by repeatedly making "inferences" that Sigma Chi puts "economic benefit" over "health and safety," Geddings wrote.
"We truly hope that President Gee will cease his aggressive, damaging, misleading and defamatory rhetoric so that we can begin the process of repairing this once-productive partnership," the letter concluded.
'A response to a history of behavior' at the organizational level
When presented with FIRE's letter to Gee, the leaked audio of Richardson's meeting with Greek organization presidents, and the claims that WVU was imposing double jeopardy and denying due process rights, a spokesperson did not respond specifically to each.
Senior Executive Director of the Office of Communications John Bolt simply claimed that there were "several inaccuracies and misleading comments in FIRE's post":
West Virginia University is not "re-punishing" fraternities and the University's process was followed. It was clearly stated that Reaching the Summit was an organizational review, and not an individual review. The process was explained when Reaching the Summit was introduced on Feb. 14. It is the University's prerogative to define the process for dealing with organizations, and it was followed. Therefore to claim the organizations did not receive due process is erroneous.
He continued that "only two" fraternities bothered to appeal the Reaching the Summit recommendations to the provost, which were upheld.
"Any recommendation was not a 're-punishment,' but a response to a history of behavior," Bolt wrote. "The University stands behind Matthew Richardson and has no intention of changing course."
MORE: WVU student investigated for 'Border Patrol' outfit
IMAGES: Syda Productions/Shutterstock, West Virginia University, FIRE
Like The College Fix on Facebook / Follow us on Twitter