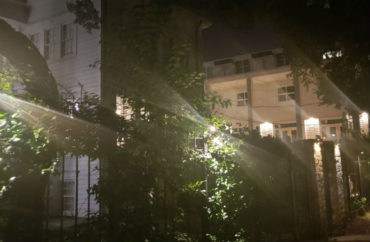 UPDATED
Dean of students regularly shares vague lists of violations
A recent "Stand With Survivors" protest at the University of Texas-Austin highlighted the hostility of a growing number of students toward fraternities, hinting at a possible breaking point.
Protesters implicated the university in their denunciation of new Supreme Court Justice Brett Kavanaugh as a "drunken frat boy," accusing the UT administration of enabling sexual abuse. President Greg Fenves was blamed for "silencing survivors," as was Colton Becker, UT's student body president and Phi Delta Theta member.
A spate of vandalism against fraternity houses last year, including that of Phi Gamma Delta, spurred the installation of security cameras and lighting systems in many houses (above). Four fraternities in a single week were vandalized with graffiti, reading "death to all frats," "nuke the frats" (below) and simply "rapists."
Even though Fenves publicly defended fraternities after the vandalism spree, his administration has arguably spurred more ill will toward the embattled student organizations, many of which have been accused of no serious wrongdoing.
The Office of the Dean of Students sends out monthly anti-hazing emails to the student body that identify all Greek organizations that have received citations or suspensions for "hazing" within a given period.
Hazing encompasses everything from physical abuse and paddling to "yelling" or "pranks," according to a 2017 campuswide email. The messages (example below) do not specify what behavior each organization was found to have committed within this wide range of "hazing."
'It was nice being able to distance ourselves'
The guilt by association helped drive at least one fraternity to formally rebrand itself.
UT's Delta Kappa Alpha, whose national organization is already "gender-inclusive," officially became a professional cinematic society last year but did not publicize the change beyond its website. Many members had already begun using the new title before the official change.
DKA created a special non-fraternity classification – the "society" – for chapters that want to "become more inclusive, for their particular environment." It still includes "the quintessential elements of the DKA experience."
"While I understand the history of the group being called a frat, it was nice being able to distance ourselves from what people think of when they hear fraternity," member Brittany Braun told The College Fix in an interview at UT's communications school.
"When people think of fraternities they think of a house, and that could mean hazing, over-drinking, and gross behavior, whether that's true or not," she said. "We can operate a lot more freely without the label," even though the rebranded society's activities are not meaningfully different from those of traditional fraternities.
Sororities have managed to dodge the negativity surrounding Greek life because many of their houses are "officially dry," meaning that no alcohol is allowed within the house, a member of UT's Kappa Delta told The Fix. Any partying is instead done at a hosting fraternity, which leads to more reported incidents of drunken behavior at fraternity houses.
This allows sororities to retain an image of purity, the sorority member said, asking to not be named for fear of critics publishing her contact information.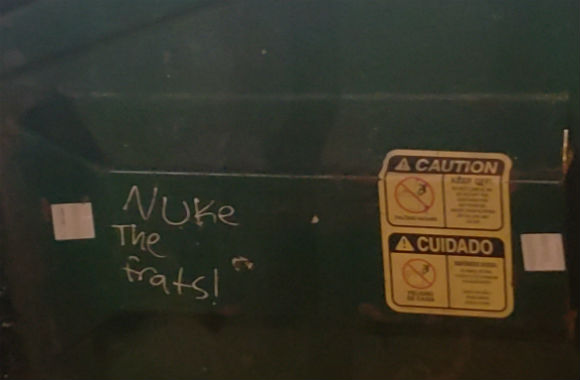 MORE: UT fraternity leaders add 'cultural sensitivity' to code of conduct
In an effort to change public perception, the North-American Interfraternity Conference voted in August to ban hard alcohol at fraternity events starting in September 2019. UT's Interfraternity Council has until then to enforce the new rules on their members, all of which have voted in favor of the ban.
Even with the threats to fraternities at UT, from suspension and disciplinary action to social scorn, more than 14 percent of the university's 50,000 students belong to Greek-letter organizations, making it one of the nation's largest communities. The number of students rushing Greek life has continued to increase steadily year to year.
That's not to say other organizations aren't benefiting from the hostility toward traditional Greeks.
Coed spirit groups are growing in popularity, providing a similar experience to fraternity life without the controversy, Miguel Plascencia, a member of the spirit group Texas Infinites, told The Fix. He said he knows many people that decided against joining Greek life because of the social stigma. Texas Infinites was founded in 2013, among a growing number of young spirit groups on campus.
Segregation leads to dangerous 'generalizations'
It wasn't stigma that created panic in the Greek community just weeks after the string of vandalism incidents, though.
Fraternity members were urged to remove their chapter clothing or turned it inside out in the immediate aftermath of a stabbing that appeared to target Greek members. Harrison Brown, who had pledged to the Phi Delta Theta fraternity, died in the attack, while Lambda Alpha Chi member Stuart Bayliss was badly injured.
Several hours passed without useful updates from campus police before officials confirmed that there was no apparent Greek-related motivation for the attacks, and that the victims weren't wearing fraternity-identified clothing.
Plascencia, the spirit group member, doesn't believe fraternities will ever face such serious threats of physical violence that they will leave campus, however. They are "too involved in the campus culture for that to happen," he said, bringing in "money and social value" in the same manner as football.
MORE: UT Greek life feels targeted after stabbing spree
Several universities in the past year have suspended all Greek life activity, including nearby Texas State University. With the UT administration's history of bowing to the more radical elements of the community, an unfortunate event could spiral into a similar ban.
One fraternity brother told The Fix that he's more concerned about less extreme scenarios. Greek life inherently segregates students from one another, creating an echo chamber similar to Twitter, Phi Delta Theta's Joe Lunghi said. This "leads to generalizations that can leave a negative view on people, whether they act a certain way or not."
Lunghi believes he is treated differently when wearing his fraternity clothing, and that non-Greek students don't want to interact or associate with him in classes or on campus. The bad behavior attributed to fraternities is no different than the activities of other groups, but student mobs only target fraternities, he said.
'White Greek life' – and whites in general – threaten UT minorities
The scrutiny applied to fraternities has manifested itself in actions by UT's student government.
Its social media posts largely pertained to how to report or avoid sexual assault in the wake of the anti-Kavanaugh protests (example below). Becker, the student body president and Phi Delta Theta member, has also publicly promoted his involvement with Not on My Campus, an organization that promotes consent training and bystander intervention.
Anti-Greek rhetoric was a defining feature of the spring election cycle, and carried into the "Stand With Survivors" protest months later.
A losing candidate for vice president, Hannah McMorris, had defended her decision to "demonize … white Greek life" in tweets from the previous summer. White Greeks "continue to get bolder and bolder" and they "demonize whole ass cultures," McMorris wrote in tweets reproduced by Campus Reform.
She also said white women "are truly the devil" and that she only likes "a select few" whites. The Twitter account for her ticket with presidential candidate Guneez Ibrahim was also shown to have "liked" a tweet that associated their ticket with opposition to "straight white Zionist men in power."
A statement from the Student Government Executive Board on supporting survivors and promoting healthy dialogue on campus.

(Originally released Oct. 2nd at 8PM on Facebook) pic.twitter.com/3saH5mhFaG

— UT Student Government (@UT_SG) October 3, 2018
After initially suspending the Ibrahim/McMorris ticket from campaigning, owing to the discriminatory tweets, the election board reversed the decision. It revoked the victory for Becker and Mehraz Rahman and scheduled a second vote, which they won again.
The election board also suspended the Becker/Rahman ticket from campaigning after Becker liked a tweet that claimed the Ibrahim/McMorris ticket was engaging in anti-Semitic rhetoric. It called Becker's action "verbal harassment."
Even worse for Becker was his ongoing fight against sexual harassment rumors, which were pushed by local groups include the anti-capitalism Revolutionary Student Front.
Becker took to Facebook to defend himself and the ticket, explaining that his Snapchat records contradicted the person who accused him of sending a nude photo. That person also declined to participate in an investigation, leading to an informal resolution.
"Since day one of the campaign, members of our team have been harassed by people who have sought to spread this rumor" and who characterize his running mate, Rahman, as an illegitimate woman of color, he wrote. "Mehraz was told that she deserves to be raped, and I was called a rapist." They are both "survivors" because of the sexual harassment she faced and the defamation he faced, Becker said.
Despite ultimately winning the election, Becker and Rahman were subject to several opinion pieces in The Daily Texan and BurntX, a BuzzFeed-style digital magazine run by students, that characterized them racists, fascists and defenders of sexual assault and hazing. One even described the Ibrahim/McMorris ticket as the victim of "the logic of whiteness."
UPDATED: Screenshots of a recent campuswide message about Greek organizations found responsible for undefined violations have been added.
MORE: Fraternity survey stereotypes male Greeks as sexual brutes
IMAGES: Ethan Berman
Like The College Fix on Facebook / Follow us on Twitter