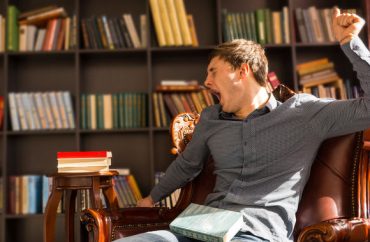 Sleeping in the library is nothing new for exhausted college students, so they might as well practice their intersectionality while they're zonked out.
The Daily Egyptian reports that Southern Illinois University is hosting "nap-ins" as part of an "interactive art installation" in the library:
Student coordinator Marissa Amposta is facilitating four sleep sessions in March where students will be given the opportunity to nap for two hours in the rotunda during the library's operating hours.

The sessions are meant to "internally generate student dreams of diversity," said Amposta, a senior from Mundelein studying art.

"The nap-ins are part of the internal journey to diversity," Amposta said. "All dreams start while sleeping."
Putting aside whether students will even remember their nap dreams, the art installation is more of a metaphor for reaching a higher consciousness of social justice:
The nap-ins are part of the Dreaming Diversity Art Installation, which was established Monday. The exhibit consists of a 15-foot-long fabric scroll hanging directly in the middle of the library rotunda that has students' dreams written on pieces of fabric and paper.

A labyrinth will also be set up in the rotunda surrounding the scroll to "help guide students to their dreams," Amposta said.

"The maze is sort of a metaphor for the general path to diversity," Amposta said. "It takes a while to reach, and it's complicated."
And of course, all the dreams written on the scroll will be psychoanalyzed at a "women's panel" discussion hosted by the women, gender and sexuality studies and art departments.
Like The College Fix on Facebook / Follow us on Twitter
IMAGE: Viacheslav Nikolaenko/Shutterstock