Still no images of boys on the brochure
Grand Valley State University opened its STEM summer camp for girls to all students in order to resolve a Title IX complaint filed by a professor at another university.
It's the latest victory for University of Michigan-Flint economist Mark Perry, who shared the documents resolving the complaint with The College Fix. He said he has now obtained more than a dozen "favorable" outcomes – three of them at a single university – in response to his sex discrimination complaints.
The resolution agreement with the Department of Education's Office for Civil Rights, dated Feb. 4, binds the public university in Michigan to "modify the Science,Technology & Engineering Preview Summer (STEPS) camp to ensure all of the University's activities to the 2020 STEPS are open to all students regardless of sex."
OCR's Cleveland office notified GVSU's deputy general counsel on Monday that its investigation had concluded, but specified that OCR will still monitor compliance with the agreement. It received the university's first "monitoring report" Feb. 26.
Perry has spent the past four years targeting universities for operating programs that exclude men, from scholarships and faculty awards to various academic "camps." Ohio State University opened several programs to men just last month to resolve another Perry complaint.
Having filed 108 federal sex discrimination complaints, Perry has noticed a pattern across 13 resulting agreements between OCR and targeted schools, he told The Fix in an email. The professor is now "confident" that OCR "is not willing to tolerate any exceptions to sex discrimination in violation of Title IX, including sex discrimination against men."
MORE: Perry complaint prods OSU to open women-only programs to men
Now has five gender options
Perry filed the complaint against GVSU in January 2019. OCR's resolution agreement says the university website described the middle school girls' summer camp as "a day-camp preview of science, engineering and technology for young ladies between the 6th and 7th grades."
The university contacted OCR after it received Perry's complaint, sharing a July 15 memo that said the 2020 camp will have "no restriction on gender as a prerequisite for participation" and that marketing materials would be updated. OCR also confirmed that the university added "check-boxes" for male and female applicants.
But GVSU was slow to change other elements of the website, according to OCR. The agency "had concerns" in a January review "that the University's promotional materials did not convey that the program is open to students regardless of sex." For example, all the photos on both the website and the application brochure "depicted female campers."
Now the website makes clear that the camp accepts all student applicants. As a result, the word "Girls" has been stripped from the program name, and the new website for the program now boasts in large font "**STEPS has changed their application policy to be gender inclusive. No applications will be denied based on gender identity.**"
The 2020 brochure still has no discernible images of male students, though. A new "Gender Identity" field offers female, male, "Non-binary/third gender," "prefer to self-describe" and "prefer not to say."
The Fix asked the university Thursday about its legal review of the previously all-girls summer camp before it launched. Spokesperson Nate Hoekstra wrote in an email that he would "pass this along to the team who works on Title IX issues."
MORE: Another college caves to a Perry complaint
Still waiting for a response on 14-month-old complaints
Perry told The Fix his complaints have achieved the results he wanted at GVSU, University of Central Arkansas, University of Wisconsin-Stout, Vermont Technical College, Clemson, Ohio State, University of Florida, Eastern Michigan, Michigan State, NYU and his own UM-Flint, the subject of three successful complaints.
He'll cheer three possible results: that the single-sex program be "discontinued," made "co-ed and "gender inclusive," or that it "be offset with an equivalent male-only educational program that would equitably and legally accommodate students of both sexes."
Two examples of the third option are the "Digital Dudes" program at Eastern Michigan University and "men-only training hours" at a Stanford recreation center, Perry said.
The feds are still pursuing 50 investigations and reviewing whether to investigate another 40 complaints filed by Perry. They go back as far as January 2019, when he filed complaints against schools in his backyard: GVSU, Wayne State University and an unidentified UM campus.
"To me that seems like a really long time, and I asked for an update on those investigations more than a month ago, and copied one of the top OCR administrators in DC, but never got a response," Perry (below) wrote in an email.
He noted that a key variable in determining the length of an investigation is "how cooperative the university is to resolve the complaint."
Most universities typically take federal civil rights investigations seriously so that they don't jeopardize federal funding or face bad media, Perry explained.
"However, I get the sense that the University of Michigan might be using its legal resources to fight the multiple Title IX complaints, which would explain the more than one year delay in resolving the case."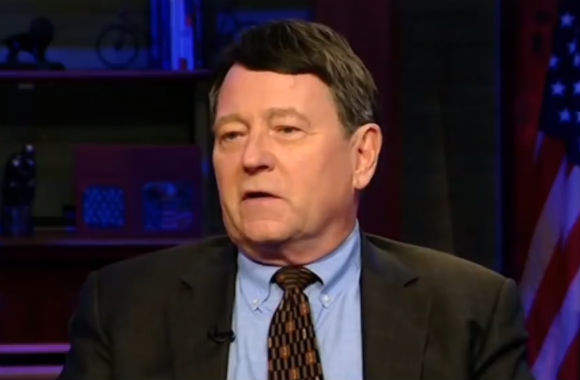 MORE: University ditches 'Women's Night' at gym after male threatens complaint
IMAGES: John T Takai/Shutterstock, GVSU, Fox News/YouTube
Like The College Fix on Facebook / Follow us on Twitter