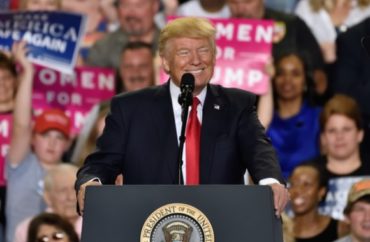 Suspension, workshops, $50 fine are possible sanctions
Showing President Trump's image is enough to trigger many college students. But who knew it could also get you prosecuted by a taxpayer-funded institution obligated to follow the First Amendment?
New Jersey's Stockton University, a 20-minute drive from Atlantic City, charged a student with disruptive behavior, discrimination, harassment, creating a "hostile environment," causing "harm" and cyberbullying. His violation? Using Trump's image as his Zoom background during an online class July 1.
The Foundation for Individual Rights in Education is representing doctoral student Robert Dailyda, warning the public university in a letter Friday that it has no legal authority to punish a student for sharing his political views, even if they offended his classmates.
FIRE's summary of the factual background says there were "no disruptions to the class or other feedback about Dailyda's choice of background during the class" other than a private chat another classmate send him. Several classmates piled on Dailyda for his Trump background in a post-class group chat, but the university admitted that this conversation was not "threatening" to anyone and that Dailayda exited the chat to "avoid continued conflict."
The student wrote a Facebook post after the pile-on, saying he was "done with the leftist agenda of BLM and the white self haters," including his classmates:
I'm not backing down. If we can't get past this, ok, I'm ready to fight to the death for our county and against those that want to take it down. I believe there are also many like me.
MORE: Stockton removes bust of its namesake because he owned slaves
University police called Dailyda to report that he had been accused of making "threatening statements." A week later he met with Director Amy Jones (left) and Assistant Director Stacey Rose (right) of the Care and Community Standards Office, who told him classmates were offended by his behavior: "They asked him to explain his political views, Zoom background, and Facebook post."
Six days later he was charged with six violations of the Campus Conduct Code. (Two of the alleged violations have rather high thresholds to clear: disruptive behavior requires "obstruction or substantial disruption of University activities or operations," and hostile environment uses a four-prong test, all of which must be satisfied: "Severe, pervasive, persistent, and objectively offensive conduct." Another multi-prong charge, discrimination, uses "and/or" so that any one prong counts as a violation.)
The university's complaint against Dailyda also faulted him for not rebuking a commenter on his Facebook post, who implied that Trump supporters don't complain when attacked by social justice activists: "we aim with persision [sic]. Boom done. No drama." While Dailyda didn't even acknowledge this comment, the university said others thought he "may have similar views and thoughts of violence."
Potential sanctions are both academic and financial: suspension, community service project, "social justice" and "decision making" workshops, and a $50 fine. He responded to the charges through FIRE's warning letter.
MORE: U. South Carolina tests First Amendment with threats to punish Zoombombers
Dailyda committed nothing more than "non-disruptive expression" during class with his Trump background, which is constitutionally protected Zachary Greenberg, program officer in FIRE's Individual Rights Defense Program, wrote to President Harvey Kesselman (left). "The complaint against Dailyda is void of any suggestion that his silent display caused any interruption to the class itself," he wrote.
It's also irrelevant under a long line of legal precedents, as recent as 2011, that Dailyda's expression offended his classmates, according to Greenberg, which is also the only basis under which Stockton accused the student of "discriminatory harassment":
Indeed, the alleged misconduct here is precisely the mere "expression of views, words, symbols or thoughts that some person finds offensive" that [the Obama administration's Department of Education] has expressly stated is not sufficient to constitute discriminatory harassment.
The public university would also have to punish America's Founding Fathers if it were to find Dailyda guilty of a "true threat," as even Thomas Jefferson "predicted that revolution and violence would be necessary to preserve liberty" with his comments about "the blood of patriots and tyrants" refreshing the "tree of liberty," Greenberg wrote:
[P]ledging to "fight to the death for" a cause is a common rhetorical expression underscoring the sincerity of the speaker's loyalty. No reasonable person would read it as a serious expression of an intent to undertake violence.
The guilt-by-association claim – that Dailyda did not rebuke the commenter on his Facebook post – is not only prohibited by the Constitution but also statutory law – Section 230 of the Communications Decency Act of 1996, which "prevents government actors from holding a person liable for content created by third parties."
In FIRE's statement on the case, Dailyda accused the university of creating a "deeply embedded and systematic environment that squelches the free speech of those who disagree with their radical agenda" and promotes a "monopoly" on ideas.
Read FIRE's statement and letter to Stockton.
MORE: UT rationale for threatening Zoombombers may be unconstitutional
IMAGES: Evan El-Amin/Shutterstock, Stockton University
Like The College Fix on Facebook / Follow us on Twitter