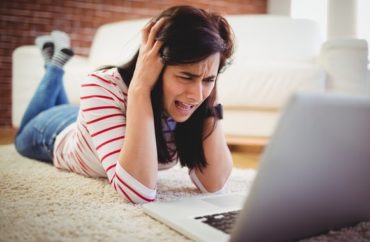 UPDATED
Could 'rickrolling' get you punished?
A public university in Pennsylvania has revised a technology policy that could have been used to punish students for sending "annoying" and "offensive" messages.
A spokesperson for Mansfield University told The College Fix Friday evening that the notice from the Foundation for Individual Rights in Education prompted it to remove those sections from its Acceptable Use Policy this week.
The policy was featured as FIRE's Speech Code of the Month two weeks ago. Approved in 1997, when information technology departments were first beset by spam, its previous revision was in 2015.
The prior version prohibited all users of Mansfield's technology resources from sending any "harassing, annoying, threatening, defamatory, offensive, or fraudulent messages or images to others" under the policy.
Without trying to explain the apparent discrepancy, the old policy also said it's not "intended to conflict or contradict with applicable federal and state laws or regulations." That would seem to include the First Amendment.
"There's no exception to the First Amendment for annoying expression, and as a public university, Mansfield is legally obligated to protect students' First Amendment rights," Laura Beltz, senior program officer for FIRE's policy reform, wrote about the policy before it was revised.
Yet students are "subjected to the whims of whatever administrator applies this extremely broad standard," she wrote, and "enforcement would have to be selective" because such a broad policy "must be violated hundreds of times every day by students."
Unlike "harassment, defamation, and fraud," the determination of "annoying" speech is subjective and "includes just about any and all speech," she said. Beltz gave the example of the "rickroll," an internet prank that took off in the 2000s. It involves tricking someone into viewing the music video for Rick Astley's 1987 song "Never Gonna Give You Up" (below).
Simply because the policy is on the books, it is "likely to create a chilling effect on expression," Beltz said. She speculated that its purpose was most likely to prevent users from sending spam or interfering with other students' use of university resources.
MORE: Georgetown Law bans political speech 'over the internet'
Retains ban on 'harassing, threatening, defamatory, or fraudulent' actions
The new policy removes subjective terms from its list of actions that violate the policy and retains those terms that can also constitute legal violations.
In a section on the "public nature of the shared computer facilities," it now says users are expected to "take care to refrain from transmitting to others in any location inappropriate images, sounds, or messages which might reasonably be considered harassing, threatening, defamatory, or fraudulent."
The Fix learned hours after this article was published Friday that it could not reach Mansfield because of an outdated listing for a university spokesperson.
The university removed that person's webpage Friday and also appears to have changed how its website interacts with search engines. A Google search for "Mansfield University media relations" turned up the outdated page earlier this week, but now it directs users to a marketing page with current press contacts.
The current spokesperson told The Fix in an email Friday that the administration "has reviewed the IT Acceptable Use Policy, and has removed ambiguous language from the policy." The revision was published Friday.
He said the policy was reviewed and updated at a president's cabinet meeting this week but didn't have the exact date, and wasn't sure if anyone had responded to FIRE. Beltz told The Fix earlier this week that no one from Mansfield had responded. The Fix has asked FIRE if Mansfield responded since then.
Many public universities ban annoying and offensive messages
Several other universities have maintained policies similar to Mansfield's 2015 revision.
Syracuse University once banned annoying and offensive messages sent electronically, prompting the student government to ask the administration to revise it. Those terms were removed at some point. (The resolution's author was Beltz's colleague Zach Greenberg, then a law student at Syracuse.)
Alabama A&M University still bans annoying and offensive messages, six months after FIRE named it the worst school in the country for free speech.
Northern Illinois University revised its policy, which seemed to ban "political" websites and social media, after a student was warned about trying to view the website of the anti-gay Westboro Baptist Church.
Even Georgetown Law School continues to ban students from engaging in "partisan political campaign activity" online, more than three years after FIRE told the law school it was misreading IRS rules about tax-exempt organizations.
Beltz gave The Fix more examples of similar policies it has encountered at American universities, including the University of Illinois-Chicago and Rensselaer Polytechnic Institute. The University of Wisconsin System is governed by a speech code that says:
No person may, with intent to harass, annoy or offend another person, send a message to the person on an electronic mail or other computerized communication system and in that message use any obscene, lewd or profane language or suggest any lewd or lascivious act.
MORE: Alabama A&M bans comments 'related to an individual's age'
Some schools have rescinded their restrictive speech policies after FIRE challenged them on First Amendment grounds. The University of Central Arkansas, for example, revised its speech policy that punished "annoying" another person or making "disparaging remarks directed at another individual on Facebook, MySpace or other internet site."
The Mansfield spokesperson told The Fix Friday that none of its 2,000 students had been investigated or punished for sending "annoying" or subjectively bad messages. The Fix previously reached out to student groups whose views could make them a target, including the Black Student Union, Political Science Club, Christian ministry Navigators and Truth Bible Study, but none responded.
"We haven't heard reports of the [Mansfield] policy's application," Beltz wrote in an email, "but given that it's a small school, abusive application of the policy may have gone unreported."
The policy revision gives Mansfield a chance to improve its speech-code rating from FIRE. The old Acceptable Use Policy was the source of its "red light" rating, the worst FIRE offers, Beltz said.
Change now before a court strikes it down
In her blog post, Beltz provided an example for Mansfield to follow: the University of North Carolina-Charlotte's "Standard for Responsible Use."
It prohibits speech that "interferes with the work of other students, faculty, or staff or the normal operation of the university's computing systems," or that qualifies as an "invasion of privacy, harassment, defamation, threats, intimidation, or discrimination on a basis prohibited by federal or state law."
Courts have ruled against policies similar to Mansfield's prior version, Beltz said.
Earlier this month, the Texas Court of Appeals overturned a statute that criminalized "intent to harass, annoy, alarm, abuse, torment or embarrass another" by sending "repeated electronic communications in a manner reasonably likely to harass, annoy, alarm, abuse, torment, embarrass, or offend another."
The court held that "the criminalization of 'annoying' behavior—without any objective measurement or standard—has been repeatedly held unconstitutionally vague."
UPDATE: The current spokesperson for the university told The Fix after this article was published that Mansfield had revised the policy in response to FIRE's concerns. His comments have been added and the story updated to reflect the policy revision. The listed spokesperson The Fix originally tried to consult does not work at Mansfield anymore, that person said Friday.
MORE: Syracuse students challenge its speech-chilling harassment policy
IMAGE: wavebreakmedia/Shutterstock
Like The College Fix on Facebook / Follow us on Twitter