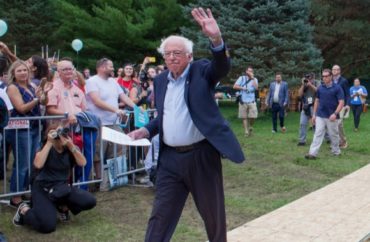 Bias reporting system justified by 'bigoted, hateful, racist' comments
Iowa State University students who plan to participate in the state's presidential caucuses next month have to work around a hurdle: the university's rules.
The taxpayer-funded institution is suppressing the constitutional rights of students related to the election season, and their speech rights more broadly, according to a federal lawsuit filed Thursday.
The free speech nonprofit Speech First targets three university policies that it claims violate the First and Fourteenth Amendment rights of students, as well as state law.
Iowa State bans political "chalking" on the sidewalk, such as messages supporting or opposing political candidates. Curiously, it bans student emails in support of candidates and campaigns, but not those against them. The suit also targets the Campus Climate Reporting System, created in 2018.
Speech First claims in a release that in its inaugural year, the system received 110 reports of alleged "bias," with much of the reported speech consisting of "protected expression."
Actual complaints concerned written support for Republican elected officials – Rep. Steve King, Gov. Kim Reynolds and President Trump – as well as issues of "gender, marriage, and abortion."  (The College Fix provided Speech First the campus climate complaints that it obtained through an earlier public records request.)
The lawsuit notes that another public college, the University of Iowa, scrapped plans to create a conventional bias response team, citing high failure rates and "their tendency to become almost punitive."
"One month out from a major political primary, students have been significantly – and unconstitutionally – burdened from participating in the political process," said Speech First President Nicole Neily.
Speech First is seeking permanent injunctions against the policies for unconstitutionality, as well as preliminary injunctions to lift the chalk and email bans "in advance of the February 3 [Iowa] caucuses."
MORE: At U. Illinois, 265 bias complaints enforced by literal 'speech police'
The nonprofit has filed bias-related suits against several other universities since 2018, with varying results.
Most recently it filed an appeal for a lawsuit against the University of Illinois, after a federal judge refused to issue a preliminary injunction. Speech First settled a case with the University of Michigan to permanently shutter the school's bias response team.
In response to The Fix's request for comment, the university emailed a statement from President Wendy Wintersteen Sunday. Appointed president two years ago, she oversaw the creation of the Campus Climate Reporting System.
"Iowa State University does not punish individuals for their constitutionally protected rights to expression, nor do we have policies or practices that prohibit expression based on the content of the expression or the viewpoint of the speaker," Wintersteen said.
The statement does not mention, much less defend, the policies that ban some political expression in chalk and emails from Iowa State addresses. Instead, it claims that the school will continue to support diversity of ideas.
The president cited "numerous speakers and guests expressing a wide variety of thought" in campus visits last semester. "We have had political candidates and elected officials from all political parties on campus and held open forums where political issues were discussed and debated."
Apparently referring to the Campus Climate Response Team, Wintersteen said the university's policies are necessary to protect students:
Unfortunately, our campus has also experienced bigoted, hateful, racist, and anti-Semitic messaging that, while protected by the First Amendment, is also hurtful and harmful to many students.

Iowa State University also takes seriously its obligation mandated by federal law to create and maintain a campus that is free from illegal discrimination and harassment. Iowa State University will continue to champion the First Amendment in our efforts to create a campus where all individuals and ideas are welcome and included.
Chalking ban violates state law?
The lawsuit names 24 defendants, comprising the board of trustees and university administrators including Wintersteen, Dean of Students Vernon Hurte and Margo Foreman, assistant vice president for diversity and inclusion and equal opportunity.
The university and administrators have created rules and regulations that are made to "restrain, deter, suppress, and punish speech concerning political and social issues of public concern," in spite of the state's "central role" in the presidential primary calendar.
Iowa State is "irreparably harming countless students" who want to voice opinions but fear investigation or punishment, the suit claims. Students are losing the "opportunity to challenge, debate, and learn from the views and experiences of their classmates" because of university policies.
Speech First, which was founded as a membership association, claims to represent three unnamed students who have experienced "concrete damages." Each of the group's previous lawsuits has also kept its student members anonymous, a strategy that faced criticism from a federal judge in Texas.
The three students hold various conservative beliefs, such as supporting President Trump and Second Amendment gun rights, and oppose topics such as communism, Medicare for All, and "all-ages drag shows" that are "held at a local public library."
The students claim that they are censoring their own speech on these and other topics to avoid being reported to the Campus Climate Reporting System for expressing bias.
A university policy last reviewed and updated almost five years ago prevents them from emailing classmates about supporting political candidates using the Iowa State network or email address.
A more recent policy change means they can no longer express messages through chalking. "Student B" claims this is "one of the only effective methods of communicating with large numbers of students" on campus.
The lawsuit notes that Iowa State's interim chalking policy was implemented in November, following complaints from the group Students Against Racism. Activists marched to Wintersteen's office to protest chalk messages they found highly offensive.
MORE: UMich permanently shutters bias team to settle suit
Despite the university's "long history" of diverse political chalking – which is "easy to clean up and causes no harm to property" – the new policy bans all chalking except for the advertising of upcoming events for registered student organizations.
Speech First claims that the policy imposes speaker- and content-based restrictions on protected speech and also violates Iowa law. It was amended less than a year ago following a federal court ruling against the University of Iowa for discriminating against a Christian student group.
The law states that a "member of the campus community who wishes to engage in noncommercial expressive activity in outdoor areas of campus shall be permitted to do so freely."
Iowa State's Acceptable Use of Information Technology Resources Policy also infringes on students' protected speech, made all the more important by the approaching election season, according to the lawsuit.
Speech First specifically targets a section that prevents students from sending "email[s] from a university account to solicit support for a candidate or ballot measure, or otherwise us[e] email systems in a concerted effort to support a candidate or ballot measure."
The suit notes that the policy would allow for students to send emails opposing candidates or policies, but not those supporting them. Students who violate this policy face suspension from the school's network, as well as disciplinary actions and fines, all of which  imposes content- and viewpoint-based restrictions on protected speech, Speech First claims.
University asks students to report 'biased' classroom speech
The lawsuit also targets the Campus Climate Reporting System. (Its original name – the Campus Climate Response Team – bothered Students Against Racism, so the university changed it in November "to better reflect its purpose.")
It does not simply respond to complainants, but sometimes intervenes with the target of complaints. The suit says more than half of 2018 reports went "beyond initial outreach," including meeting with bias targets "to discuss impact and institutional values" and engage in "constructive dialogue."
The team was created in 2018 but it was conceived in 2016 in response to that presidential election cycle, by the university's own admission. Student activists and administrators across the country tried to stop chalk messages in favor of then-candidate Donald Trump.
Speech First claims that "large swaths" of the Iowa State "websites and policies" are taken "word-for-word" from the Campus Climate Response Team at the University of Texas, which was itself challenged in a suit pending appeal. Every identified CCRS representative is a defendant in the suit.
The system collects both in-person and online reports – which can be submitted anonymously – in order to provide "support for those who report being impacted by hate, intolerance, or bias on campus," according to the suit. It also analyzes "trend data to effectively target education and awareness" and encourage a "culture of civility and respect."
MORE: Iowa State activists 'demand change' after hateful chalkings
(Speech First does not provide a source for these quotes, which do not appear on the CCRS page. The quotes all appear in the team's fiscal year 2018 report, before it was renamed. One was also cited in a Fix article, attributed to another CCRS page that has since been removed.)
The lawsuit notes that the CCRS page encourages students to file reports if they "know of a student organization hosting a party with a racist theme." Also mentioned in the annual report, but not on the CCRS page: The university recommends reporting posts on "social media or group chat apps pertaining to race, creed, religion, gender, or sex," and "[c]ommentary in the classroom perceived as derogatory or biased."
Iowa State's definition of bias – "[d]ifferential preference for one person, group, or identity over another" – is overbroad to the point of being unconstitutional, Speech First argues.
It notes that the university has actually increased its use of the CCRS following the fall protests. President Wintersteen told Iowa State Daily last month that she now starts "every morning with a phone call so that we can hear from our campus climate response system about what has happened the previous day."
Speech First provides several examples where the existing policies have been used against members of the campus community, or where the administration has sided against freedom of speech.
One incident took place in September, when a bias incident was filed against a professor for not taking sides in classroom discussion involving "abortion and birth control." A student complained that calling these topics "women's issues" erased "trans men" and non-binary people, and claimed the professor repeated "this erasure" by not pushing back.
The suit also notes that in February, the student government rescinded support for state legislation to protect freedom of speech and freedom of association. It was troubled that the legislation would allow Christian student organizations to "deny leadership to students who are sexually active or in same-sex relationships."
MORE: Student government opposes freedom of association for Christians
IMAGE: Michael F. Hiatt/Shutterstock
Like The College Fix on Facebook / Follow us on Twitter